Alarm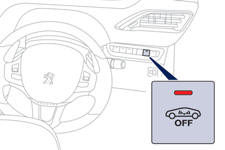 System which protects and provides a deterrent against theft and break-ins. It provides the following types of monitoring:
- Exterior perimeter
The system checks for opening of the vehicle. The alarm is triggered if anyone tries to open a door, the boot, the bonnet...
- Interior volumetric
The system checks for any variation in the volume in the passenger compartment. The alarm is triggered if anyone breaks a window, enters the passenger compartment or moves inside the vehicle.
Self-protection function
The system checks for the putting out of service of its components. The alarm is triggered if the battery, the central control or the wires of the siren are put out of service or damaged.
For all work on the alarm system, contact a PEUGEOT dealer or a qualified workshop.
See also:
Folding the backrest
Move the front seats forward if necessary. Position the seat belts on the backrest and buckle them. Place the head restraints in the low position. Press both controls 1 simultaneously ...
Height
Pull the control upwards to raise or push it downwards to lower, as many times as required, to obtain the position required. ...
General points relating to child seats
Although one of PEUGEOT main criteria when designing your vehicle, the safety of your children also depends on you. * The rules for carrying children are specific to each country. Refer to the le ...