Engine oil level indicator
This information is displayed for a few seconds when the ignition is switched on, after the service information.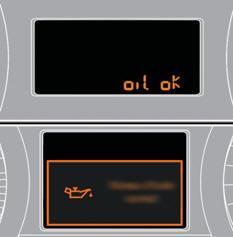 The level shown will only be correct if the vehicle is on level ground and the engine has been off for more than 30 minutes.
Oil level correct

Oil level low

This is indicated by the flashing of "OIL" , linked with the service warning lamp, accompanied by an audible signal and a message in the multifunction screen.
If the low oil level is confirmed by a check using the dipstick, the level must be topped up to prevent damage to the engine.
Oil level indicator fault

This is indicated by the flashing of "OIL --" . Contact a PEUGEOT dealer or a qualified workshop.
Dipstick

There are 2 marks on the dipstick:
- A = max; never exceed this level (risk of damage to the engine),
- B = min; top up the level via the oil filler cap, using the grade of oil suited to your engine.
See also:
Lighting dimmer
Permits manual adjustment of the brightness of the instruments and controls to suit the ambient light level. Only operates when the vehicle lighting is on, with the exception of the daytime runnin ...
Changing a fuse
Before changing a fuse: the cause of the failure must be identified and rectified, all electrical consumers must be switched off, the vehicle must be immobilised with the ignition off, ident ...
Mirrors
Door mirrors Each fitted with an adjustable mirror glass permitting the lateral rearward vision necessary for overtaking or parking. They can also be folded for parking in confined spaces. Demi ...