Engine oil level indicator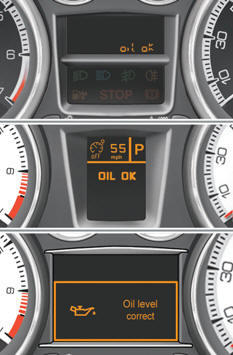 This information is displayed for a few seconds when the ignition is switched on, after the service information.

The level shown will only be correct if the vehicle is on level ground and the engine has been off for more than 30 minutes.
Oil level correct


Oil level low


This is indicated by the flashing of "OIL" , linked with the service warning lamp, accompanied by an audible signal and a message in the multifunction screen.
If the low oil level is confirmed by a check using the dipstick, the level must be topped up to prevent damage to the engine.
Oil level indicator fault


This is indicated by the flashing of "OIL--" .
Contact a PEUGEOT dealer or a qualified workshop.
Dipstick
Refer to the "Checks" section to locate the dipstick and the oil filler cap on your engine.

There are 2 marks on the dipstick:
- A = max; never exceed this level (risk of damage to the engine),
- B = min; top up the level via the oil filler cap, using the grade of oil suited to your engine.
See also:
Recommendations for ventilation and air conditioning
In order for these systems to be fully effective, follow the operation and maintenance guidelines below: To obtain an even air distribution, take care not to obstruct the exterior air intake gril ...
Automatic operation of hazard warning lamps
When braking in an emergency, depending on the deceleration, the hazard warning lamps come on automatically. They switch off automatically the first time you accelerate. You can also switch them o ...
"Aircraft" type tables
Installed on the back of each front seat, these allow you to set down objects and each is equipped with a cup holder. To use the table, raise it fully until it locks in the high position. To s ...