Alarm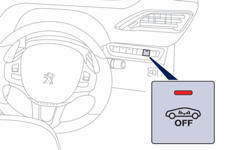 System which protects and provides a deterrent against theft and break-ins. It provides the following types of monitoring:
- Exterior perimeter
The system checks for opening of the vehicle. The alarm is triggered if anyone tries to open a door, the boot, the bonnet...
- Interior volumetric
The system checks for any variation in the volume in the passenger compartment. The alarm is triggered if anyone breaks a window, enters the passenger compartment or moves inside the vehicle.
Self-protection function
The system checks for the putting out of service of its components. The alarm is triggered if the battery, the central control or the wires of the siren are put out of service or damaged.
For all work on the alarm system, contact a PEUGEOT dealer or a qualified workshop.
See also:
Letting your body drive
Out on the road, you soon become aware that the small steering wheel does dominate much of the experience. You don't need to twirl your arms as much. You feel like a racing driver on B-roads, neve ...
Towing a trailer
Towbar suitable for the attachment of a trailer or installation of a bicycle carrier, with additional lighting and signalling. Your vehicle is primarily designed for transporting people and lugga ...
Engine oil level indicator
This information is displayed for a few seconds when the ignition is switched on, after the service information. The level shown will only be correct if the vehicle is on level ground and the ...