Towing a trailer
Towbar suitable for the attachment of a trailer or installation of a bicycle carrier, with additional lighting and signalling.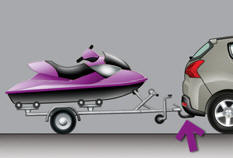 Your vehicle is primarily designed for transporting people and luggage, but it may also be used for towing a trailer.

We recommend the use of genuine PEUGEOT towbars and their harnesses that have been tested and approved from the design stage of your vehicle, and that the fitting of the towbar is entrusted to a PEUGEOT dealer or a qualified workshop.
If the towbar is not fitted by a PEUGEOT dealer, it is imperative that it is fitted in accordance with the vehicle manufacturer's instructions.
Driving with a trailer places greater demands on the towing vehicle and the driver must take particular care.
Driving advice
Distribution of loads
Distribute the load in the trailer so that the heaviest items are as close as possible to the axle and the nose weight approaches the maximum permitted without exceeding it.
Air density decreases with altitude, thus reducing engine performance. Above 1 000 metres, the maximum towed load must be reduced by 10 % for every 1 000 metres of altitude.
Side wind
Take into account the increased sensitivity to side wind.
Cooling
Towing a trailer on a slope increases the temperature of the coolant.
As the fan is electrically controlled, its cooling capacity is not dependent on the engine speed.
To lower the engine speed, reduce your speed.
The maximum towed load on a long incline depends on the gradient and the ambient temperature.
In all cases, keep a check on the coolant temperature.

If the warning lamp and the STOP warning lamp come on, stop the vehicle and switch off the engine as soon as possible.
Braking
Towing a trailer increases the braking distance.
To avoid overheating of the brakes on a long mountain type of descent, the use of engine braking is recommended.
Tyres
Check the tyre pressures of the towing vehicle and of the trailer, observing the recommended pressures.
Lighting
Check the electrical lighting and signalling on the trailer.

The rear parking sensors will be deactivated automatically if a genuine PEUGEOT towbar is used.
See also:
Operating fault
In the event of a speed limiter fault, the speed is cleared resulting in flashing of the dashes. Have it checked by a PEUGEOT dealer or a qualified workshop. On a steep descent or in the event of ...
Anti-theft protection
Electronic engine immobiliser The key contains an electronic chip which has a special code. When the ignition is switched on, this code must be recognised in order for starting to be possible. Thi ...
Elegant lines enhanced by advanced technology
The design of the new Peugeot 308 subtly incorporates the new stylistic codes of the Peugeot Marque. While the dimensions are unchanged, the new lines marry as closely as possible the car's mechan ...