Indicator lamps
Visual indicators which inform the driver of the occurrence of a fault (warning lamp) or of the operation of a system (operation or deactivation indicator lamp).
When the ignition is switched on
Certain warning lamps come on for a few seconds when the ignition is switched on.
When the engine is started, these warning lamps should go off.
If they remain on, before moving off, refer to the explanations given for the warning or indicator lamp concerned in the tables below.
Associated warnings
The illumination, fixed or flashing, of certain warning lamps is accompanied by an audible signal.
Depending on your version of instrument panel, illumination of the warning lamp is also accompanied by: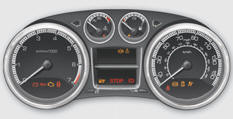 - a message in the multifunction screen,
or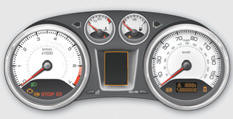 - a pictogram in the central instrument panel screen and a message in the multifunction screen,
or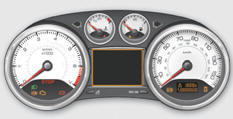 - a pictogram and a message in the central instrument panel screen.
Warning lamps
When the engine is running or the vehicle is being driven, the illumination of one of the following warning lamps indicates a fault which requires action on the part of the driver.

The illumination of a warning lamp is always accompanied by the display of an additional message, to assist you in identifying the fault.
If you encounter any problems, contact a PEUGEOT dealer or a qualified workshop.
See also:
Air filter and passenger compartment filter
Refer to the servicing booklet for details of the replacement intervals for these components. Depending on the environment (e.g. dusty atmosphere) and the use of the vehicle (e.g. city driving) ...
Speed limiter
System which prevents the vehicle from exceeding the speed programmed by the driver. When the programmed speed limit is reached, pressing the accelerator pedal no longer has any effect. The spee ...
Quality of the fuel used for Diesel engines
The Diesel engines are perfectly compatible with biofuels which conform to current and future European standards (Diesel fuel which complies with standard EN 590 mixed with a biofuel which complie ...