Engine oil level indicator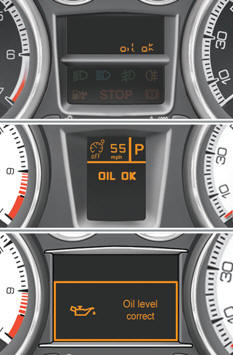 This information is displayed for a few seconds when the ignition is switched on, after the service information.

The level shown will only be correct if the vehicle is on level ground and the engine has been off for more than 30 minutes.
Oil level correct


Oil level low


This is indicated by the flashing of "OIL" , linked with the service warning lamp, accompanied by an audible signal and a message in the multifunction screen.
If the low oil level is confirmed by a check using the dipstick, the level must be topped up to prevent damage to the engine.
Oil level indicator fault


This is indicated by the flashing of "OIL--" .
Contact a PEUGEOT dealer or a qualified workshop.
Dipstick
Refer to the "Checks" section to locate the dipstick and the oil filler cap on your engine.

There are 2 marks on the dipstick:
- A = max; never exceed this level (risk of damage to the engine),
- B = min; top up the level via the oil filler cap, using the grade of oil suited to your engine.
See also:
Misfuel prevention (diesel)
Mechanical device which prevents filling the tank of a Diesel vehicle with petrol. It avoids the risk of engine damage that can result from filling with the wrong fuel. Located in the filler neck ...
Triggering of the alarm
This is indicated by sounding of the siren and flashing of the direction indicators for thirty seconds. The monitoring functions remain active until the alarm has been triggered eleven times in s ...
Interior mood lighting
The dimmed passenger compartment lighting improves visibility in the vehicle when the light is poor. Switching on At night, the front courtesy lamp mood lamp A comes on automatically when the ...