Engine oil level indicator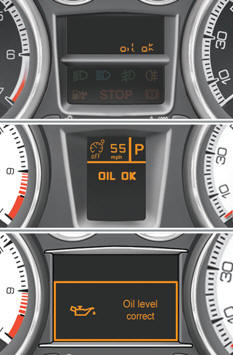 This information is displayed for a few seconds when the ignition is switched on, after the service information.

The level shown will only be correct if the vehicle is on level ground and the engine has been off for more than 30 minutes.
Oil level correct


Oil level low


This is indicated by the flashing of "OIL" , linked with the service warning lamp, accompanied by an audible signal and a message in the multifunction screen.
If the low oil level is confirmed by a check using the dipstick, the level must be topped up to prevent damage to the engine.
Oil level indicator fault


This is indicated by the flashing of "OIL--" .
Contact a PEUGEOT dealer or a qualified workshop.
Dipstick
Refer to the "Checks" section to locate the dipstick and the oil filler cap on your engine.

There are 2 marks on the dipstick:
- A = max; never exceed this level (risk of damage to the engine),
- B = min; top up the level via the oil filler cap, using the grade of oil suited to your engine.
See also:
e-HDi micro-hybrid technology
After the 508, the new Peugeot 308 is the second of the Marque's cars to introduce the innovative e-HDi micro-hybrid technology, a new generation STOP & START. This innovation is based on th ...
Stop & Start
Going into engine STOP mode The "ECO" warning lamp comes on in the instrument panel and the engine automatically goes into standby, with a 6-speed electronic gear control gearbox and a ...
Hill start assist
System which keeps your vehicle immobilised temporarily (approximately 2 seconds) when starting on a gradient, the time it takes to move your foot from the brake pedal to the accelerator pedal. T ...