Engine oil level indicator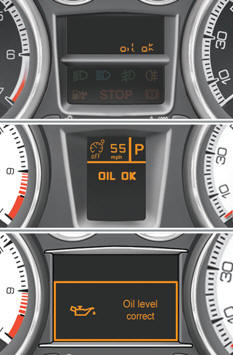 This information is displayed for a few seconds when the ignition is switched on, after the service information.

The level shown will only be correct if the vehicle is on level ground and the engine has been off for more than 30 minutes.
Oil level correct


Oil level low


This is indicated by the flashing of "OIL" , linked with the service warning lamp, accompanied by an audible signal and a message in the multifunction screen.
If the low oil level is confirmed by a check using the dipstick, the level must be topped up to prevent damage to the engine.
Oil level indicator fault


This is indicated by the flashing of "OIL--" .
Contact a PEUGEOT dealer or a qualified workshop.
Dipstick
Refer to the "Checks" section to locate the dipstick and the oil filler cap on your engine.

There are 2 marks on the dipstick:
- A = max; never exceed this level (risk of damage to the engine),
- B = min; top up the level via the oil filler cap, using the grade of oil suited to your engine.
See also:
ISOFIX child seats recommended by PEUGEOT and approved for your vehicle
Follow the instructions for fitting child seats contained in the seat manufacturer's installation guide. ...
Passenger doors
On the rear doors, check that the child lock is not on. Remove the black cap located on the edge of the door, using the key. Insert the key into the aperture without forcing, then without turni ...
Steering wheel adjustment
When stationary, pull the control lever to release the adjustment mechanism. Adjust the height and reach to suit your driving position. Push the control lever to lock the adjustment mechanism ...