Distance recorders
The total and trip distances are displayed for thirty seconds when the ignition is switched off, when the driver's door is opened and when the vehicle is locked or unlocked.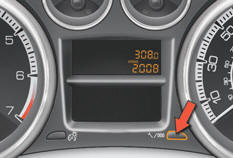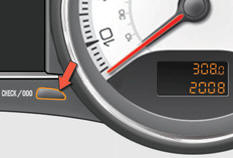 Total distance recorder
Measures the total distance travelled by the vehicle since its first registration.
Trip distance recorder
Measures a distance travelled since it was reset to zero by the driver.

With the ignition on, press and hold this button until zeros appear.
See also:
Passenger doors
On the rear doors, check that the child lock is not on. Remove the black cap located on the edge of the door, using the key. Insert the key into the aperture without forcing, then without turni ...
Travelling abroad
As Diesel fuel pump nozzles may be different in other countries, the presence of the misfuel prevention device may make refuelling impossible. Before travelling abroad, we recommend that you check ...
Automated mode
After starting the vehicle, select position A for enter automated mode. AUTO and the gear engaged appear in the instrument panel screen. The gearbox is then operating in auto-active mode, without ...