Panoramic sunroof
Component which has a tinted glass panoramic surface to increase the light and visibility in the passenger compartment.
Fitted with an electric blind in several sections to improve temperature and noise related comfort.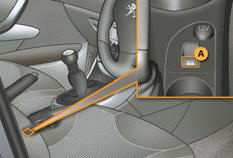 One-touch electric blind
There are two options for opening and closing:
- manual mode
Pull or press control A gently.
The blind stops when you release the control.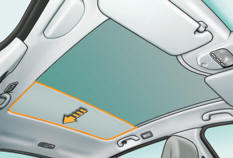 - automatic mode
Pull or press control A firmly.
One press opens or closes the blind completely.
Pressing the control again stops the blind.
Safety anti-pinch
In automatic mode and at the end of its travel, if the blind meets an obstacle while closing it stops and moves back slightly.

Reinitialisation: if the blind's supply is cut off while it is moving, the safety anti-pinch must be reinitialised:
press the control until the blind is fully closed,

continue to press for at least 3 seconds. A slight movement of the blind will then be noticeable, confirming the reinitialisation.

If the blind re-opens during a closing manoeuvre, and immediately after it stops:

pull the control until the blind is fully open,

press the control until the blind is fully closed.

The safety anti-pinch function is not operational during these operations.

If the blind meets an obstacle during operation, you must reverse the movement of the blind. To do this, press the control concerned.
When the driver operates the blind control, he must ensure that no one is preventing correct closing of the blind.
The driver must ensure that passengers use the blind correctly.
Be aware of children when operating the blind.
See also:
Speed limiter "LIMIT"
1. Selecting speed limiter mode. 2. Decrease the programmed value. 3. Increase the programmed value. 4. Speed limiter On / Off. The values must be set with the engine running. ...
Verdict
This is a world away from the bloated, bland 207 that went before. Peugeot deserves praise for making a car that's smaller and lighter but with more space inside than before. We're quite big fans ...
Used products
Avoid prolonged contact of used oil or fluids with the skin. Most of these fluids are harmful to health or indeed very corrosive. Do not discard used oil or fluids into sewers or onto the ground. T ...