Panoramic sunroof
Component which has a tinted glass panoramic surface to increase the light and visibility in the passenger compartment.
Fitted with an electric blind in several sections to improve temperature and noise related comfort.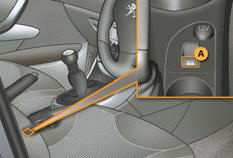 One-touch electric blind
There are two options for opening and closing:
- manual mode
Pull or press control A gently.
The blind stops when you release the control.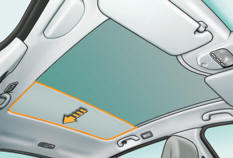 - automatic mode
Pull or press control A firmly.
One press opens or closes the blind completely.
Pressing the control again stops the blind.
Safety anti-pinch
In automatic mode and at the end of its travel, if the blind meets an obstacle while closing it stops and moves back slightly.

Reinitialisation: if the blind's supply is cut off while it is moving, the safety anti-pinch must be reinitialised:
press the control until the blind is fully closed,

continue to press for at least 3 seconds. A slight movement of the blind will then be noticeable, confirming the reinitialisation.

If the blind re-opens during a closing manoeuvre, and immediately after it stops:

pull the control until the blind is fully open,

press the control until the blind is fully closed.

The safety anti-pinch function is not operational during these operations.

If the blind meets an obstacle during operation, you must reverse the movement of the blind. To do this, press the control concerned.
When the driver operates the blind control, he must ensure that no one is preventing correct closing of the blind.
The driver must ensure that passengers use the blind correctly.
Be aware of children when operating the blind.
See also:
Running out of fuel (diesel)
On vehicle fitted with HDi engines, the fuel system must be primed if you run out of fuel; refer to the corresponding engine compartment view. 1.6 litre HDi engine Fill the fuel tank with at lea ...
Airbags
System designed to maximise the safety of the occupants (with the exception of the rear centre passenger) in the event of violent collisions. It supplements the action of the force-limiting seat b ...
6-Speed electronic gear control gearbox
Six-speed electronic gear control gearbox which offers a choice between the comfort of automated operation or the pleasure of manual gear changing. Two driving modes are offered: - automated mode ...