Storage drawer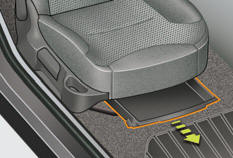 The storage drawer is located under the front passenger's seat.
Opening
Raise the front of the drawer and pull it.
Removal
Bring the drawer to the end of its travel.
Press the ends of the slides.
Raise the drawer and pull it fully.
Refitting
Engage the drawer in its slides.
At the end of its travel, press on the top of the drawer to secure it.

Do not place heavy objects in the drawer.
See also:
Automatic operation of hazard warning lamps
When braking in an emergency, depending on the deceleration, the hazard warning lamps come on automatically. They switch off automatically the first time you accelerate. You can also switch them o ...
Travelling abroad
As Diesel fuel pump nozzles may be different in other countries, the presence of the misfuel prevention device may make refuelling impossible. Before travelling abroad, we recommend that you check ...
Access to reasonably priced navigation
This graphic touch interface is pre-equipped for the navigation option with map of Europe. And this is available at a reasonable price, less than 500 euros, placing it in a very competitive positi ...