"Aircraft" type tables

Installed on the back of each front seat, these allow you to set down objects and each is equipped with a cup holder.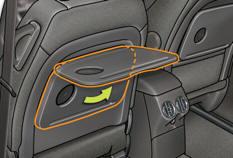 To use the table, raise it fully until it locks in the high position.
To store the table, lower it, passing the point of resistance, to the low position.

On the passenger side, do not forget to fold the "aircraft" type table before placing the seat in the table position.
Do not place hard or heavy objects on the table. They could become dangerous projectiles in the event of emergency braking or impact.
See also:
Changing a fuse
Access to the tools The extraction tweezer is fitted to the back of the dashboard fusebox cover. For access to it: open the glove box lid, push the opening guide to the left to open to beyond ...
A triumph of touchscreens
Given that we aren't always impressed by in-car touchscreens, this system is one of the best we've used. It's big for a start. Having projected it into the cabin, off the dash, it's easier to reac ...
Accessories
A wide range of accessories and genuine parts is available from the PEUGEOT dealer network. These accessories and parts have been tested and approved for reliability and safety. They are all adapt ...