Changing a fuse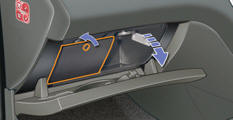 Access to the tools
The extraction tweezer is fitted to the back of the dashboard fusebox cover.
For access to it:
open the glove box lid,

push the opening guide to the left to open to beyond the first notch,

open the glove box lid fully,

turn the screw a quarter of a turn to the left,

unclip the fusebox cover by pulling at the top right,

remove the cover completely and turn it over,

remove the carrier in which is fitted the tweezer.

Changing a fuse
Before changing a fuse, it is necessary to

identify and rectify the cause of the failure,

switch off all electrical consumers,

immobilise the vehicle and switch off the ignition,

identify the failed fuse using the tables and diagrams on the following pages.

To replace a fuse, it is essential to:
use the special tweezer to extract the fuse from its housing and check its filament.

always replace the failed fuse with a fuse of the same rating (same colour); the use of a different rating may cause malfunctions (risk of fire).
If the fault recurs soon after changing the fuse, have the electrical system checked by a PEUGEOT dealer or a qualified workshop.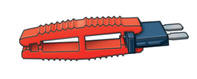 Tweezer

Installing electrical accessories
Your vehicle's electrical system is designed to operate with standard or optional equipment.

Before installing other electrical equipment or accessories on your vehicle, contact a PEUGEOT dealer or a qualified workshop.

PEUGEOT will not accept responsibility for the cost incurred in repairing your vehicle or for rectifying malfunctions resulting from the installation of accessories not supplied and not recommended by PEUGEOT and not installed in accordance with its instructions, in particular when the combined consumption of all of the additional equipment connected exceeds 10 milliamperes.
Dashboard fuses
The fusebox is placed in the lower dashboard, left-hand side, inside the glove box.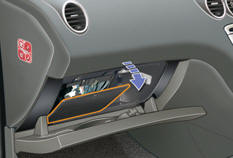 Access to the fuses
refer to the paragraph "Access to the tools".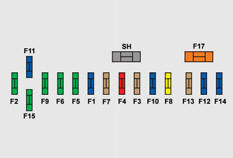 Fuse tables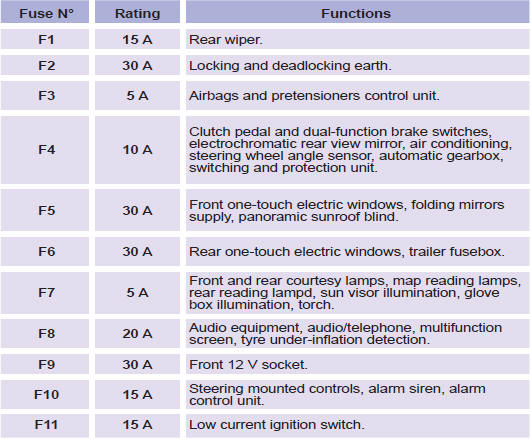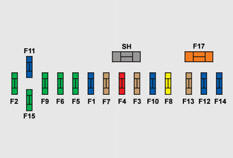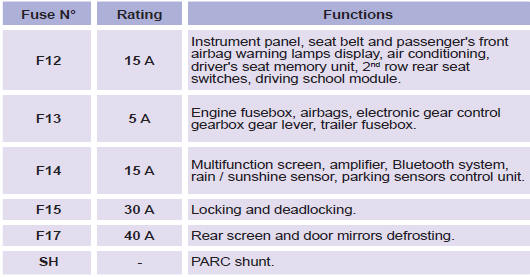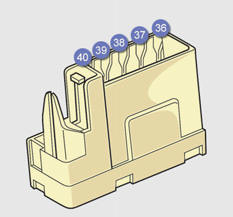 Engine compartment fuses
The fusebox is placed in the engine compartment near the battery (left-hand side).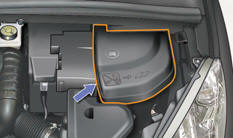 Access to the fuses
Unclip the cover.
Change the fuse (see corresponding paragraph).
When you have finished, close the cover carefully to ensure the sealing of the fusebox.
Fuse table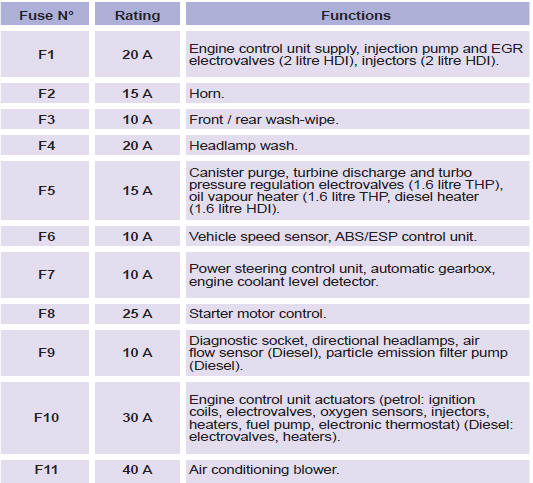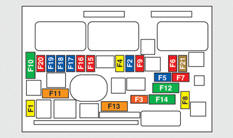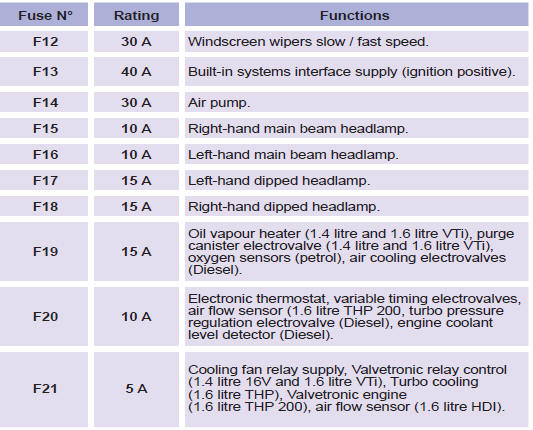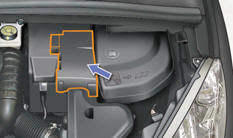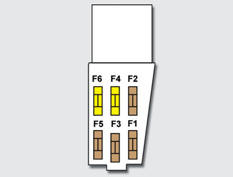 Table of fuses above the battery


All work on the other types of fuses (midi-fuses and maxi-fuses) must only be done by a PEUGEOT dealer or a qualified workshop.
See also:
Door mirror spotlamps
To make your approach to the vehicle easier, these illuminate: - the zones facing the driver's and passenger's doors, - the zones forward of the door mirrors and rearward of the front doors. Swi ...
Seat backrest angle
Push the control rearwards. ...
Deactivation
At any time, press the "ECO OFF" switch to deactivate the system. This is confirmed by the switch warning lamp coming on accompanied by a message in the screen. If the system has been ...