Fuel tank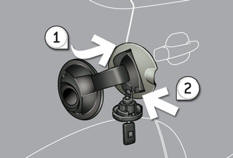 1. Opening the fuel filler flap.
2. Opening and hooking the fuel filler cap.
The type of fuel to be used is indicated on the inner face of the fuel filler flap.
Capacity of the tank: approximately 60 litres.
On Diesel vehicles, the fuel filler neck incorporates a misfuel prevention device which prevents filling with petrol.
See also:
1.4 litre HDi engine
Fill the fuel tank with at least five litres of diesel. Open the bonnet. Press and release the priming pump until resistance is felt (there may be resistance on the first press). Operate t ...
Passenger safety
Passenger's front airbag 1. Insert the key. 2. Select the position: "OFF" (deactivation), with "rear facing" child seat, "ON" (activation), with front passenge ...
Charging the battery using a battery charger
Disconnect the battery from the vehicle. Follow the instructions for use provided by the manufacturer of the charger. Connect the battery starting with the negative terminal (-). Check that t ...