Tailgate release
System for mechanical unlocking of the boot in the event of a central locking malfunction.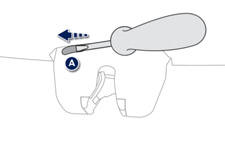 Unlocking
Fold back the rear seats to gain access to the lock from inside the boot.
Insert a small screwdriver into hole A of the lock to unlock the tailgate.
See also:
A generous passenger compartment
A wheelbase identical to that of the 207, the adoption of more compact front seat backs and an overall optimisation of the design provide significantly more space in the rear for passengers (+ 5 c ...
Rear lamps
1. Brake lamps (P21W). 2. Reversing lamps (R10W). 3. Direction indicators (PY21W amber). 4. Sidelamps (light emitting diodes - LEDs). 5. Foglamp (P21W). Changing the light emitting diode-LED ...
Folding the backrest
Move the front seats forward if necessary. Position the seat belts on the backrest and buckle them. Place the head restraints in the low position. Press both controls 1 simultaneously ...