Tailgate release
System for mechanical unlocking of the boot in the event of a central locking malfunction.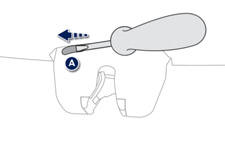 Unlocking
Fold back the rear seats to gain access to the lock from inside the boot.
Insert a small screwdriver into hole A of the lock to unlock the tailgate.
See also:
Exiting economy mode
These functions are reactivated automatically next time the vehicle is driven. To restore these functions immediately, start the engine and let it run for at least five minutes. A flat battery pre ...
Access to reasonably priced navigation
This graphic touch interface is pre-equipped for the navigation option with map of Europe. And this is available at a reasonable price, less than 500 euros, placing it in a very competitive positi ...
Hill start assist
System which keeps your vehicle immobilised temporarily (approximately 2 seconds) when starting on a gradient, the time it takes to move your foot from the brake pedal to the accelerator pedal. T ...