Distance alert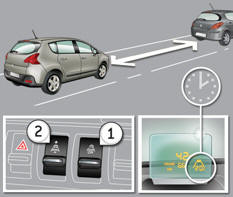 1. Distance alert on /off.
2. Alert value increase / decrease.

The adjustments must be made with the engine running and the vehicle stationary.
See also:
Emergency braking
In the event of a failure of the main service brake or in an exceptional situation (e.g. driver taken ill, under instruction, etc) a continuous pull on the control lever A will stop the vehicle ...
Parking brake
If excessive travel or a loss of effectiveness of this system is noticed, the parking brake must be checked, even between two services. Checking this system must be done by a PEUGEOT dealer or a ...
Engines and gearboxes
* The kerb weight is equal to the unladen weight + driver (75 kg). ** The weight of the braked trailer can be increased, within the GTW limit, if the GVW of the towing vehicle is reduced by a ...