Coolant temperature indicator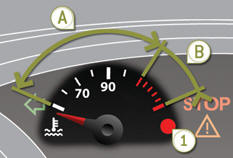 With the engine running, when the needle is: - in zone A , the temperature is correct,
- in zone B , the temperature is too high; the max temperature warning lamp 1 and the central STOP warning lamp come on, accompanied by an audible signal and a message in the screen.
You must stop as soon as it is safe to do so.
Wait a few minutes before switching off the engine.
Contact a PEUGEOT dealer or a qualified workshop.
After driving for a few minutes, the temperature and pressure in the cooling system increase.
To top up the level: wait for the engine to cool, unscrew the cap by two turns to allow the pressure to drop, when the pressure has dropped, remove the cap, top up the level to the "MAX" mark.
See also:
Identifi cation markings
Various visible markings for the identification of your vehicle. A. Vehicle Identification Number (VIN) under the bonnet. This number is engraved on the bodywork near the damper support. B. Vehi ...
Overview
Right from the start of the project, the technical choices structuring the "A9" project (internal code name of the Peugeot 208) were directed on the basis of the PSA Group's platform 1 t ...
Diesel engines
The various caps and covers allow access for checking the levels of the various fl uids, for replacing certain components and for priming the fuel system. 1. Power steering reservoir. 2. Screenw ...