Panoramic sunroof
Component which has a tinted glass panoramic surface to increase the light and visibility in the passenger compartment.
Fitted with an electric blind in several sections to improve temperature and noise related comfort.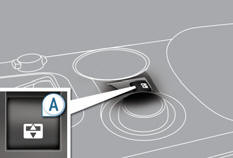 One-touch electric blind
There are two ways of opening and closing.
Manual mode
Pull or press control A gently, without going past the point of resistance.
The blind stops when you release the control.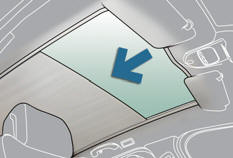 Automatic mode
Pull or press control A firmly, going beyond the point of resistance.
One press opens or closes the blind completely.
Pressing the control again stops the blind.
Safety anti-pinch
In automatic mode and at the end of its travel, if the blind meets an obstacle while closing it stops and moves back slightly.
Reinitialisation: if the blind's supply is cut off while it is moving, the safety antipinch must be reinitialised.
Press the control until the blind is fully closed.
Continue to press for at least 3 seconds.
A slight movement of the blind will then be noticeable, confirming the reinitialisation.
If the blind re-opens during a closing manoeuvre, and immediately after it stops.
Pull the control until the blind is fully open.
Press the control until the blind is fully closed.
The safety anti-pinch function is not operational during these operations.
If the blind meets an obstacle during operation, you must reverse the movement of the blind. To do this, press the control concerned.
When the driver operates the blind control, he must ensure that no one is preventing correct closing of the blind.
The driver must ensure that passengers use the blind correctly.
Be aware of children when operating the blind.
See also:
Special position of the windscreen wipers
This position permits release of the windscreen wiper blades. It is used for cleaning or replacement of the blades. It can also be useful, in winter, to detach the blades from the windscreen. ...
Homes on wheels
After the summer we have just had, I suspect the great British staycation could soon become extinct. But if you are made of stern stuff, or merely want to upgrade from a tent, you may be intereste ...
Exceeding the programmed speed
Pressing the accelerator pedal to exceed the programmed speed will not have any effect unless you press the pedal firmly past the point of resistance. The speed limiter is deactivated temporarily a ...