Additional adjustments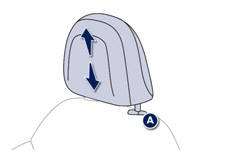 Head restraint height adjustment
To raise the head restraint, pull it upwards.
To remove the head restraint, press the lug A and pull the head restraint upwards.
To put the head restraint back in place, engage the head restraint stems in the openings keeping them in line with the seat back.
To lower the head restraint, press the lug A and the head restraint at the same time.
The head restraint is fitted with a frame with notches which prevents it from lowering; this is a safety device in case of impact.
The adjustment is correct when the upper edge of the head restraint is level with the top of the head. Never drive with the head restraints removed; they must be in place and adjusted correctly.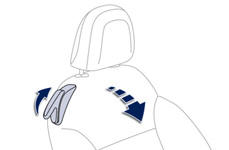 Access to the rear seats (3-door)
Pull only this control upwards to fold the seat back and move the seat forward.
When put back in place, the seat returns to its initial position.
Ensure that no person or object prevents the seat slide from returning to its initial position; the return to this position is necessary for longitudinal locking.
Check that the seat belt has reeled in correctly so as to not impede access for passengers to the rear seats.
See also:
Footwell lighting
The soft lighting provided by the footwell lamps improves visibility in the vehicle when the light is poor. Activation Its operation is identical to that of the courtesy lamps. The lighting come ...
Towing a trailer
Towbar suitable for the attachment of a trailer or installation of a bicycle carrier, with additional lighting and signalling. Your vehicle is primarily designed for transporting people and lugga ...
A very charismatic front face
The front face, a true genetic signature, unveils a new, particularly charismatic face of the Marque. Its feline expression is more modern, rich and refined, with, in particular (according to vers ...