Emergency braking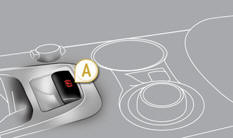 In the event of a failure of the main service brake or in an exceptional situation (e.g.
driver taken ill, under instruction, etc) a continuous pull on the control lever A will stop the vehicle .
The dynamic stability control (DSC) provides stability during emergency braking.
If there is a fault with the emergency braking, one of the following messages will be displayed:
- "Parking brake faulty".
- "Parking brake control faulty".

If a failure of the DSC system is signalled by the illumination of this warning lamp, then braking stability is not guaranteed.
In this event, stability must be assured by the driver by repeating alternate "pull release" actions on control lever A .

The emergency braking must only be used in exceptional circumstances.
Emergency release
Front left seat moved back fully.
In the event of the electric parking brake malfunctioning or the battery running fl at, an emergency manual device can release the parking brake.
Immobilise the vehicle (or keep it stationary, if the brake pedal is pressed), with the engine running, by engaging first gear (manual gearbox), position P (automatic gearbox) or M or R (6-speed electronic gear control gearbox).
Switch off the engine but leave the ignition on. If it is impossible to immobilise the vehicle, do not operate the control and contact a PEUGEOT dealer or a qualified workshop urgently.
Fetch the two vehicle blocks and the release device, located under the boot carpet (see "Changing a wheel" in the "Practical information" section).
Immobilise the vehicle by placing blocks in front and behind one of the front wheels.
Slide the front left-hand seat back as far as possible.
Lift up the floor plug B in the carpet under the seat.
Pierce the protective cover C on the tube D with the release device.
Place the release device in the tube D .
Turn the release device clockwise.
For safety reasons , it is essential to continue turning the device as far as it will go. The parking brake is released.
Remove the release device and store it with the blocks in the toolbox.
The operation of the parking brake reinitialises when the ignition is switched off then on again. If the reinitialisation of the parking brake proves impossible, contact a PEUGEOT dealer or a qualified workshop.
The subsequent time required for application may be longer than during normal operation.

For safety reasons, you must contact a PEUGEOT dealer as soon as possible to replace the protective cover.
Following an emergency unlocking, immobilisation of the vehicle is no longer guaranteed once the manual emergency release has been deployed and the manual control does not allow the re-application of your parking brake.
Take no action, either on the control lever A , or stopping or starting the engine while the release device is engaged.
Take care not to allow moisture or dust in the proximity of the protective cover.