Folding the backrest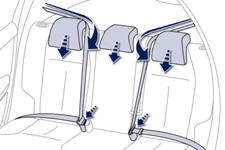 Move the front seats forward if necessary.
Position the seat belts on the backrest and buckle them.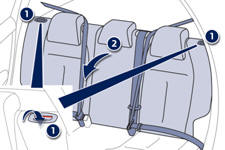 Place the head restraints in the low position.
Press both controls 1 simultaneously to release the seat backrest 2.
Fold the seat backrest 2 on to the cushion.
When folding the seat, the centre seat belt should not be buckled but laid out flat on the seat.
See also:
Charging the battery using a battery charger
Disconnect the battery from the vehicle. Follow the instructions for use provided by the manufacturer of the charger. Connect the battery starting with the negative terminal (-). Check that t ...
Stopping the vehicle
Before switching off the engine, you can choose to: - move to position N to engage neutral, - leave the gear engaged; in this case, it will not be possible to move the vehicle. In both cases, you m ...
Recommendations for ventilation and air conditioning
In order for these systems to be fully effective, follow the operation and maintenance guidelines below: To obtain an even air distribution, take care not to obstruct the exterior air intake ...