Fitting roof bars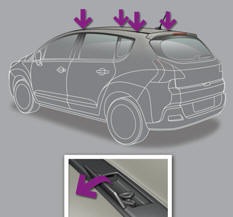 When fitting transverse roof bars, use the four quick-fi t fixings provided for this purpose:
lift the concealing flaps, open the fixing covers on each bar using the key,
put each fixing in place and lock them on the roof one by one,
ensure that roof bars are correctly fitted (by shaking them),
close the fixing covers on each bar using the key.
Maximum authorised weight on the roof rack, for a loading height not exceeding 40 cm (with the exception of bicycle carriers): 65 kg.
If the height exceeds 40 cm, adapt the speed of the vehicle to the profi le of the road to avoid damaging the roof bars and the fixings on the roof.
Be sure to refer to national legislation in order to comply with the regulations for transporting objects that are longer than the vehicle.
See also:
Operation indicator lamps
If one of the following indicator lamps comes on in the instrument panel and/or instrument panel screen, this confirms that the corresponding system has come into operation. ...
Quality of the fuel used for Diesel engines
The Diesel engines are perfectly compatible with biofuels which conform to current and future European standards (Diesel fuel which complies with standard EN 590 mixed with a biofuel which complie ...
Visual and audible front and/or rear parking sensors
System consisting of four proximity sensors, installed in the front and/or rear bumper. It detects any obstacle (person, vehicle, tree, barrier...) located behind the vehicle, however, it will ...