Very cold climate screen
Removable protective screen which prevents the accumulation of snow at the radiator cooling fan.
Before fitting or removing the screen, ensure that the engine is off and the cooling fan has stopped. It is recommended that the screen be fitted and removed by a PEUGEOT dealer or a qualified workshop.
Fitting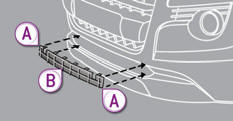 Offer up the screen to the front of the lower section of the front bumper (do not use the upper ventilation grille position).
Press on the edges A to engage its fixing clips.
Press on the middle at B to complete the engagement of the fixing clips.
Removal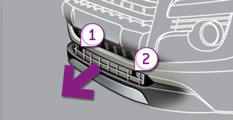 Pull on the very cold climate screen using the cut-outs 1 then 2 at the edges of the screen.
Do not forget to remove the very cold climate screen:
- when the ambient temperature exceeds 10° C,
- when towing,
- at speeds above 75 mph (120 km/h).
See also:
Automatic operation of hazard warning lamps
When braking in an emergency, depending on the deceleration, the hazard warning lamps come on automatically. They switch off automatically the first time you accelerate. You can also switch them o ...
Fuel tank
Capacity of the tank: approximately 60 litres. Low fuel level When the low fuel level is reached, this warning lamp comes on in the instrument panel, accompanied by an audible signal and a messa ...
Rear armrest
Comfort and storage device for the rear passengers. Lower the rear armrest for a more comfortable position. Raise the cover to gain access to its storage compartment. This has a storage tray, ...