Very cold climate screen
Removable protective screen which prevents the accumulation of snow at the radiator cooling fan.
Before fitting or removing the screen, ensure that the engine is off and the cooling fan has stopped. It is recommended that the screen be fitted and removed by a PEUGEOT dealer or a qualified workshop.
Fitting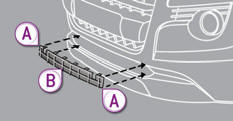 Offer up the screen to the front of the lower section of the front bumper (do not use the upper ventilation grille position).
Press on the edges A to engage its fixing clips.
Press on the middle at B to complete the engagement of the fixing clips.
Removal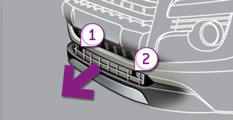 Pull on the very cold climate screen using the cut-outs 1 then 2 at the edges of the screen.
Do not forget to remove the very cold climate screen:
- when the ambient temperature exceeds 10° C,
- when towing,
- at speeds above 75 mph (120 km/h).
See also:
Fuses under the bonnet
The fusebox is placed in the engine compartment near the battery (left-hand side). Access to the fuses Unclip the cover. Change the fuse (see corresponding paragraph). When you have finishe ...
Peugeot 208 petrol range:
1.0 l VTi 50 kW (68 hp); 95 Nm, 5-speed manual gearbox; 99 g/km 1.2 l VTi 60 kW (82 hp); 118 Nm, 5-speed manual gearbox; 104 g/km 1.4 l VTi 70 kW (95 hp); 136 Nm, 5-speed manual gearbox: 129 g/km 1 ...
Instrument panels
On switching on, the dial needles go to the extent of their travel then return to 0. A. With the ignition on, the needle should indicate the fuel remaining. B. With the engine running, the assoc ...