Very cold climate screen
Removable protective screen which prevents the accumulation of snow at the radiator cooling fan.
Before fitting or removing the screen, ensure that the engine is off and the cooling fan has stopped. It is recommended that the screen be fitted and removed by a PEUGEOT dealer or a qualified workshop.
Fitting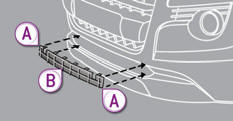 Offer up the screen to the front of the lower section of the front bumper (do not use the upper ventilation grille position).
Press on the edges A to engage its fixing clips.
Press on the middle at B to complete the engagement of the fixing clips.
Removal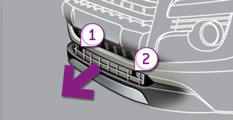 Pull on the very cold climate screen using the cut-outs 1 then 2 at the edges of the screen.
Do not forget to remove the very cold climate screen:
- when the ambient temperature exceeds 10° C,
- when towing,
- at speeds above 75 mph (120 km/h).
See also:
Stop & Start
The Stop & Start system puts the engine temporarily into standby - STOP mode - during stops in the traffic (red lights, traffic jams, or other...). The engine restarts automatically - START mo ...
Petrol engines
The various caps and covers allow access for checking the levels of the various fl uids and for replacing certain components. 1. Power steering reservoir. 2. Screenwash and headlamp wash reservo ...
Starting-stopping the engine
With a manual gearbox , put the gear lever in neutral. With an electronic gearbox , put the gear lever on N . With an automatic gearbox , put the gear lever on P or N. ...