Very cold climate screen
Removable protective screen which prevents the accumulation of snow at the radiator cooling fan.
Before fitting or removing the screen, ensure that the engine is off and the cooling fan has stopped. It is recommended that the screen be fitted and removed by a PEUGEOT dealer or a qualified workshop.
Fitting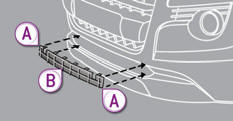 Offer up the screen to the front of the lower section of the front bumper (do not use the upper ventilation grille position).
Press on the edges A to engage its fixing clips.
Press on the middle at B to complete the engagement of the fixing clips.
Removal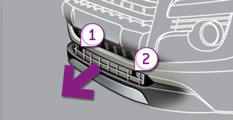 Pull on the very cold climate screen using the cut-outs 1 then 2 at the edges of the screen.
Do not forget to remove the very cold climate screen:
- when the ambient temperature exceeds 10° C,
- when towing,
- at speeds above 75 mph (120 km/h).
See also:
The peugeot 3008, a crossover available in a simple and clear range
According to countries, the Peugeot 3008 range will be available in four trim levels. To offer the widest possible choice, it will be available in nine body colours and, according to trim level, t ...
Illuminated glove box
Its lid has areas for storing a pen, a pair of spectacles, tokens, cards, a can... To open the glove box, raise the handle. The light comes on when the lid is opened. If your vehicle is fitted wi ...
USB port / Jack auxiliary socket
This connection box, consisting of a JACK auxiliary socket and a USB port, is located on the centre console. It allows the connection of portable device, such as a digital audio player of the i ...