Rear head restraints
These have one position for use (up) and a stowed position (down).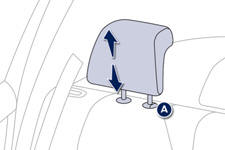 They can be removed and are interchangeable side to side.
To remove a head restraint:
pull the head restraint upwards to the stop,
then, press the lug A .
Never drive with the head restraints removed; they must be in place and correctly adjusted.
See also:
Locking the vehicle
Normal locking using the remote control Press the closed padlock to lock the vehicle completely. Press the closed padlock for more than two seconds to close the windows automatically in addition ...
Then one day someone has an idea.
What if, to make manoeuvring easier and increase driving sensations, the diameter of the steering wheel were reduced? And what if, to make it easier to read the information on the instrument panel ...
Road-holding: the Marque's expertise
The Peugeot Marque has demonstrated the full extent of its expertise in developing a new combination, at a very high level as regards the road-holding of its Peugeot 208, in order to carry forward ...