Rear view mirror
Adjustable mirror providing a central rearward view.
Equipped with an anti-dazzle system, which darkens the mirror glass: this reduces the nuisance to the driver caused by the headlamps from following vehicles, low sun...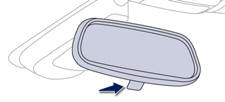 Manual day/night model
Adjustment
Adjust the mirror so that the glass is directed correctly in the "day" position.
Day / night position
Pull the lever to change to the "night" antidazzle position.
Push the lever to change to the normal "day" position.
As a safety measure, the mirrors should be adjusted to reduce the "blind spot".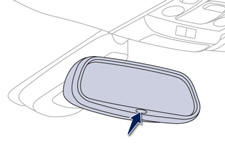 Automatic day/night model
By means of a sensor, which measures the light from the rear of the vehicle, this system automatically and progressively changes between the day and night uses.
In order to ensure optimum visibility during your manoeuvres, the mirror lightens automatically when reverse gear is engaged.
See also:
Head-up display
System which projects various information onto a transparent strip in the fi eld of vision of the driver so that they do not have to take their eyes off the road. This system operates when the ...
Fuses under the bonnet
The fusebox is placed in the engine compartment near the battery (left-hand side). Access to the fuses Unclip the cover. Change the fuse (see corresponding paragraph). When you have finishe ...
Re-generate architecture
Peugeot's theme of "re-generate" is most apparent in the cabin, where we see a very different kind of interior design. There are three core elements. Sit in the driver's seat, and you'll ...