Rear view mirror
Adjustable mirror providing a central rearward view.
Equipped with an anti-dazzle system, which darkens the mirror glass: this reduces the nuisance to the driver caused by the headlamps from following vehicles, low sun...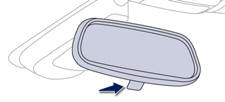 Manual day/night model
Adjustment
Adjust the mirror so that the glass is directed correctly in the "day" position.
Day / night position
Pull the lever to change to the "night" antidazzle position.
Push the lever to change to the normal "day" position.
As a safety measure, the mirrors should be adjusted to reduce the "blind spot".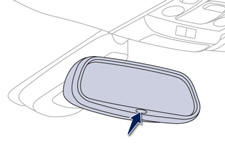 Automatic day/night model
By means of a sensor, which measures the light from the rear of the vehicle, this system automatically and progressively changes between the day and night uses.
In order to ensure optimum visibility during your manoeuvres, the mirror lightens automatically when reverse gear is engaged.
See also:
Optimised aerodynamics
The dimensions of the Peugeot 208, in particular the width (-2 cm) and the height (-1 cm compared with the 207), its volumes which have been designed with particular attention, the care given to e ...
Triggering of the alarm
This is indicated by sounding of the siren and flashing of the direction indicators for thirty seconds. The monitoring functions remain active until the alarm has been triggered eleven times in s ...
Boot (308 saloon)
Opening After unlocking the vehicle using the remote control or the key, pull the handle and raise the tailgate. Closing Lower the tailgate using the interior grab handle. If the tailgate is ...