Manual air conditioning
The air conditioning system only operates with the engine running.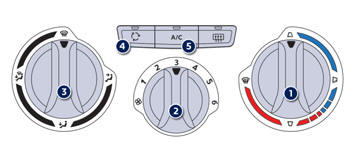 If you put the air flow control in position 0 (system off), the temperature is no longer controlled. However, a slight flow of air can still be felt, resulting from the movement of the vehicle.
3. Air distribution adjustment

Windscreen and side windows.

Windscreen, side windows and footwells.

Footwells.

Central and side vents.

The air distribution can be adapted by placing the dial in an intermediate position.
4. Air intake / Air recirculation
The recirculation of interior air insulates the passenger compartment from exterior odours and smoke.
Return to exterior air intake as soon as possible to prevent deterioration of the air quality and the formation of mist.

Press the button to recirculate the interior air. The indicator lamp comes on to confirm this.
Press the button again to allow fresh air into the passenger compartment. The indicator lamp goes off to confirm this.
5. Air conditioning On / Off
The air conditioning is designed to operate effectively in all seasons, with the windows closed.
It enables you to:
- lower the temperature, in summer,
- increase the effectiveness of the demisting in winter, above 3 °C.
Switching on
Press the "A/C" button, the button's indicator lamp comes on.
The air conditioning does not operate when the air flow adjustment control 2 is in position " 0".
To obtain cooled air more quickly, you can use recirculation of interior air for a few moments. Then return to fresh air intake.
Switching off
Press the "A/C" button again, the button's indicator lamp goes off.
Switching off may affect comfort levels (humidity, condensation).
See also:
Eco-driving
Eco-driving is a range of everyday practices that allow the motorist to optimise their fuel consumption and CO2 emissions. Optimise the use of your gearbox With a manual gearbox, move off gently, ...
A very charismatic front face
The front face, a true genetic signature, unveils a new, particularly charismatic face of the Marque. Its feline expression is more modern, rich and refined, with, in particular (according to vers ...
Operation
When a petrol filler nozzle is introduced into the fuel filler neck of your Diesel vehicle, it comes into contact with the flap. The system remains closed and prevents filling. Do not persist but ...