Gear shift indicator
Operation
The system intervenes only when driving economically.
Depending on the driving situation and your vehicle's equipment, the system may advise you to skip one or more gears. You can follow this instruction without engaging the intermediate gears.
The gear engagement recommendations must not be considered compulsory. In fact, the configuration of the road, the amount of traffic and safety remain determining factors when choosing the best gear. Therefore, the driver remains responsible for deciding whether or not to follow the advice given by the system. This function cannot be deactivated.
Example: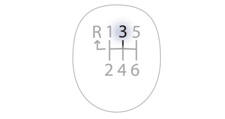 - You are in third gear.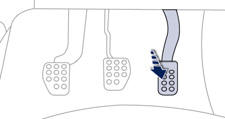 - You press the accelerator pedal moderately.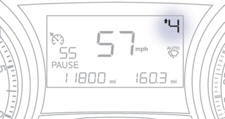 - The system may suggest that you engage a higher gear, if appropriate.
The information appears in the instrument panel in the form of an arrow accompanied by the suggested gear.
In the case of driving which makes particular demands on the performance of the engine (firm pressure on the accelerator pedal, for example, when overtaking...), the system will not recommend a gear change.
The system never suggests:
- engaging first gear,
- engaging reverse gear,
- engaging a lower gear.
See also:
Towing a trailer
Towbar suitable for the attachment of a trailer or installation of a bicycle carrier, with additional lighting and signalling. Your vehicle is primarily designed for transporting people and lugga ...
The peugeot 3008, a crossover available in a simple and clear range
According to countries, the Peugeot 3008 range will be available in four trim levels. To offer the widest possible choice, it will be available in nine body colours and, according to trim level, t ...
Parking sensors
This system indicates the proximity of an obstacle (person, vehicle, tree, gate, etc.) which comes within the fi eld of detection of sensors located in the bumper. Certain types of obstacle (stake, ...