Deactivation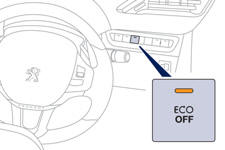 At any time, press the "ECO OFF" switch to deactivate the system.
This is confirmed by the switch warning lamp coming on accompanied by a message in the screen.
If the system has been deactivated in STOP mode, the engine restarts immediately.
See also:
Diesel additive level
A low additive level is indicated by illumination of the service warning lamp, accompanied by an audible warning and a message in the screen. Topping up This additive must be topped up by a PEUGEO ...
Filling
A self-adhesive label on the inner face of the filler flap reminds you of the type of fuel to use depending on your engine. Additions of fuel must be of at least 5 litres to be registered by the ...
Accessories
A wide range of accessories and genuine parts is available from the PEUGEOT dealer network. These accessories and parts have been tested and approved for reliability and safety. They are all adapt ...