Memorisation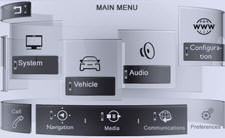 Go to the main menu by pressing MENU.
Select the "Settings" menu then "Vehicle settings".
Select the "Vehicle configuration" menu then "Memorised speeds".
Choose the speed setting you want to modify then select "Modify speed".
Enter the desired speed and press confirm to save the modifications.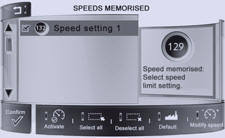 For safety reasons, the driver must carry out these operations when stationary.
See also:
Failure of the remote control
To deactivate the monitoring functions: Unlock the vehicle using the key in the driver's door lock. Open the door; the alarm is triggered. Switch on the ignition; the alarm stops. The indi ...
Coolant temperature indicator
With the engine running, when the needle is: - in zone A , the temperature is correct, - in zone B , the temperature is too high; the max temperature warning lamp 1 and the central STOP warning ...
Cruise control "CRUISE"
1. Cruise control mode Selection / Off. 2. Programming a speed / Decreasing the programmed value. 3. Programming a speed / Increasing the programmed value. 4. Cruise control Off / Resume. In o ...