Memorisation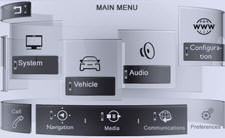 Go to the main menu by pressing MENU.
Select the "Settings" menu then "Vehicle settings".
Select the "Vehicle configuration" menu then "Memorised speeds".
Choose the speed setting you want to modify then select "Modify speed".
Enter the desired speed and press confirm to save the modifications.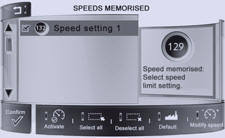 For safety reasons, the driver must carry out these operations when stationary.
See also:
Two differentiated body types
The muscular sculpted body sides offer an identity, a posture which is very different in the 3-door and 5-door body types. The doors of this latter appear to be crossed by a "nerve" runn ...
Completely re-thought instruments and controls
Sometimes, things are noticed that seem intangible. A hatchback has 4 wheels, a steering wheel... and through this we read the instrument panel. The history of the motor vehicle, technical develop ...
Running out of fuel (diesel)
On vehicle fitted with HDi engines, the fuel system must be primed if you run out of fuel; refer to the corresponding engine compartment view. 1.6 litre HDi engine Fill the fuel tank with at lea ...