Description of the kit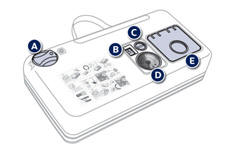 A. "Sealant" or "Air" position selector.
B. On "I" / off "O" switch.
C. Deflation button.
D. Pressure gauge (in bar or p.s.i.).
E. Compartment housing:
- a cable with adaptor for 12 V socket,
- various inflation adaptors for accessories, such as balls, bicycle tyres...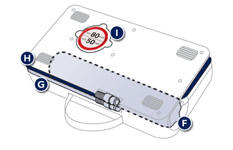 F. Sealant cartridge.
G. White pipe with cap for repair.
H. Black pipe for inflation.
I. Speed limit sticker.
The speed limit sticker I must be affixed to the vehicle's steering wheel to remind you that a wheel is in temporary use. Do not exceed a speed of 50 mph (80 km/h) when driving with a tyre repaired using this type of kit.
See also:
1.6 litre e-hdi fa p 112 bhp engine
To deploy this technology on a large scale, the new Peugeot 308 proposes e-HDi technology with a "basic" engine, the 1.6 litre HDi FAP 112 bhp, which can be coupled with two gearboxes (m ...
Visual and audible front and/or rear parking sensors
System consisting of four proximity sensors, installed in the front and/or rear bumper. It detects any obstacle (person, vehicle, tree, barrier...) located behind the vehicle, however, it will ...
Child seats recommended by Peugeot
PEUGEOT offers a complete range of recommended child seats which are secured using a three point seat belt : Group 0+: from birth to 13 kg L1 "RÖMER Baby-Safe Plus" Install ...