Description of the kit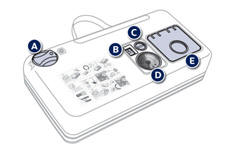 A. "Sealant" or "Air" position selector.
B. On "I" / off "O" switch.
C. Deflation button.
D. Pressure gauge (in bar or p.s.i.).
E. Compartment housing:
- a cable with adaptor for 12 V socket,
- various inflation adaptors for accessories, such as balls, bicycle tyres...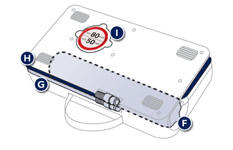 F. Sealant cartridge.
G. White pipe with cap for repair.
H. Black pipe for inflation.
I. Speed limit sticker.
The speed limit sticker I must be affixed to the vehicle's steering wheel to remind you that a wheel is in temporary use. Do not exceed a speed of 50 mph (80 km/h) when driving with a tyre repaired using this type of kit.
See also:
Airbags
System designed to maximise the safety of the occupants (with the exception of the rear centre passenger) in the event of violent collisions. It supplements the action of the force-limiting seat b ...
Reduction of CO2
The reduction of CO2 emissions was one of the main objectives of this project. This resulted in a search for environmental efficiency at all levels. All factors influencing fuel consumption were o ...
Instrument panel navigator associated with the Peugeot Connect Media
This group of buttons permits: - when stationary , configuration of the vehicle's equipment and of the parameters of the central screen (languages, units...), - while driving , scrolling of t ...