Access to the battery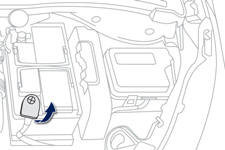 The battery is located under the bonnet. To gain access to it:
open the bonnet using the interior release lever, then the exterior safety catch,
secure the bonnet stay,
remove the plastic cover on the (+) terminal.
Disconnecting the cables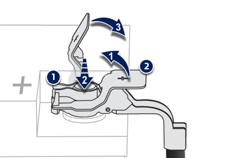 Raise the locking tab fully.
Reconnecting the cables
Position the open clip 1 of the cable on the positive terminal (+) of the battery.
Press vertically on the clip 1 to position it correctly against the battery.
Lock the clip by spreading the positioning lug and then lowering the tab 2.
Do not force the tab as locking will not be possible if the clip is not positioned correctly; start the procedure again.
See also:
Automatic one-touch operation
To open or close the window, press or pull the switch fully: the window opens or closes completely when the switch is released. Pressing the switch again stops the movement of the window. The ele ...
Warning lamps
When the engine is running or the vehicle is being driven, illumination of one of the following warning lamps indicates a fault which requires action on the part of the driver. Any fault resultin ...
Automatic operation of hazard warning lamps
When braking in an emergency, depending on the deceleration, the hazard warning lamps come on automatically. They switch off automatically the first time you accelerate. You can also switch them o ...