Access to the battery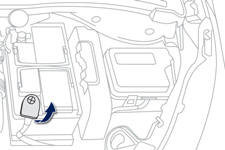 The battery is located under the bonnet. To gain access to it:
open the bonnet using the interior release lever, then the exterior safety catch,
secure the bonnet stay,
remove the plastic cover on the (+) terminal.
Disconnecting the cables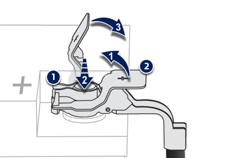 Raise the locking tab fully.
Reconnecting the cables
Position the open clip 1 of the cable on the positive terminal (+) of the battery.
Press vertically on the clip 1 to position it correctly against the battery.
Lock the clip by spreading the positioning lug and then lowering the tab 2.
Do not force the tab as locking will not be possible if the clip is not positioned correctly; start the procedure again.
See also:
Air filter and passenger compartment filter
Refer to the servicing booklet for details of the replacement intervals for these components. Depending on the environment (e.g. dusty atmosphere) and the use of the vehicle (e.g. city driving) ...
Used products
Avoid prolonged contact of used oil or fluids with the skin. Most of these fluids are harmful to health or indeed very corrosive. Do not discard used oil or fluids into sewers or onto the ground. T ...
Well-designed acoustics
This ambiance is also particularly well designed in terms of acoustics and vibration comfort. Following the example of the work carried out on the 508, by tracking the noise to the source (acousti ...