Access to the battery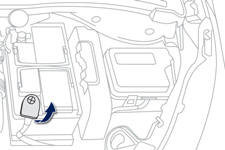 The battery is located under the bonnet. To gain access to it:
open the bonnet using the interior release lever, then the exterior safety catch,
secure the bonnet stay,
remove the plastic cover on the (+) terminal.
Disconnecting the cables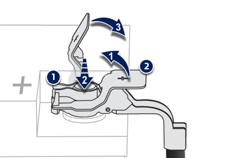 Raise the locking tab fully.
Reconnecting the cables
Position the open clip 1 of the cable on the positive terminal (+) of the battery.
Press vertically on the clip 1 to position it correctly against the battery.
Lock the clip by spreading the positioning lug and then lowering the tab 2.
Do not force the tab as locking will not be possible if the clip is not positioned correctly; start the procedure again.
See also:
Passenger airbag OFF
Refer to the advice given on the label present on both sides of the passenger's sun visor. To assure the safety of your child, you must deactivate the passenger's front airbag when ...
e-HDi micro-hybrid technology
After the 508, the new Peugeot 308 is the second of the Marque's cars to introduce the innovative e-HDi micro-hybrid technology, a new generation STOP & START. This innovation is based on th ...
Accessories
A wide range of accessories and genuine parts is available from the PEUGEOT dealer network. These accessories and parts have been tested and approved for reliability and safety. They are all adapt ...