Access to the battery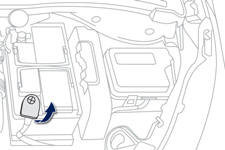 The battery is located under the bonnet. To gain access to it:
open the bonnet using the interior release lever, then the exterior safety catch,
secure the bonnet stay,
remove the plastic cover on the (+) terminal.
Disconnecting the cables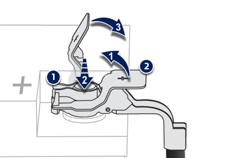 Raise the locking tab fully.
Reconnecting the cables
Position the open clip 1 of the cable on the positive terminal (+) of the battery.
Press vertically on the clip 1 to position it correctly against the battery.
Lock the clip by spreading the positioning lug and then lowering the tab 2.
Do not force the tab as locking will not be possible if the clip is not positioned correctly; start the procedure again.
See also:
Load reduction mode
System which manages the use of certain functions according to the level of charge remaining in the battery. When the vehicle is being driven, the load reduction function temporarily deactivates ...
Quality of the fuel used for petrol engines
The petrol engines are perfectly compatible with E10 or E24 type petrol biofuels (containing 10 % or 24 % ethanol), conforming to European standards EN 228 and EN 15376. E85 type fuels (containing ...
Fitting roof bars (308 saloon)
When fitting transverse roof bars, use the four quick-fit fixings provided for this purpose: lift the concealing flaps, open the fixing covers on each bar using the spanner, put each ...