Access to the battery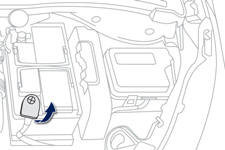 The battery is located under the bonnet. To gain access to it:
open the bonnet using the interior release lever, then the exterior safety catch,
secure the bonnet stay,
remove the plastic cover on the (+) terminal.
Disconnecting the cables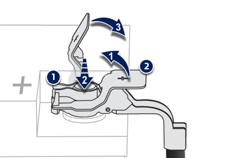 Raise the locking tab fully.
Reconnecting the cables
Position the open clip 1 of the cable on the positive terminal (+) of the battery.
Press vertically on the clip 1 to position it correctly against the battery.
Lock the clip by spreading the positioning lug and then lowering the tab 2.
Do not force the tab as locking will not be possible if the clip is not positioned correctly; start the procedure again.
See also:
Locking the vehicle with exterior perimeter monitoring only
Deactivate the interior volumetric monitoring to avoid unwanted triggering of the alarm in certain cases such as: - leaving a pet in the vehicle, - leaving a window partially open, - washing your ...
Direction indicators
Left: lower the lighting stalk passing the point of resistance. Right: raise the lighting stalk passing the point of resistance. If you forget to cancel the direction indicators for more than t ...
Closing
Take the blind by its handle and pull it forwards to the required position. ...