Access to the battery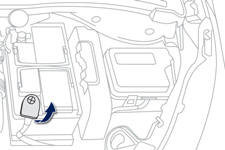 The battery is located under the bonnet. To gain access to it:
open the bonnet using the interior release lever, then the exterior safety catch,
secure the bonnet stay,
remove the plastic cover on the (+) terminal.
Disconnecting the cables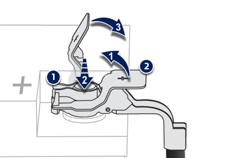 Raise the locking tab fully.
Reconnecting the cables
Position the open clip 1 of the cable on the positive terminal (+) of the battery.
Press vertically on the clip 1 to position it correctly against the battery.
Lock the clip by spreading the positioning lug and then lowering the tab 2.
Do not force the tab as locking will not be possible if the clip is not positioned correctly; start the procedure again.
See also:
Petrol weights and towed loads (in kg)
The GTW and towed load values indicated are valid up to a maximum altitude of 1 000 metres; the towed load mentioned must be reduced by 10 % for each additional 1 000 metres of altitude. The sp ...
With dual-zone digital air conditioning
Automatic visibility programme Select this programme to demist or defrost the windscreen and side windows as quickly as possible. The system automatically manages the air conditioning, air flow an ...
Completely re-thought instruments and controls
Sometimes, things are noticed that seem intangible. A hatchback has 4 wheels, a steering wheel... and through this we read the instrument panel. The history of the motor vehicle, technical develop ...