Access to the battery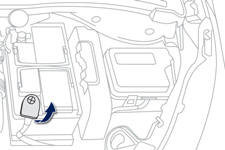 The battery is located under the bonnet. To gain access to it:
open the bonnet using the interior release lever, then the exterior safety catch,
secure the bonnet stay,
remove the plastic cover on the (+) terminal.
Disconnecting the cables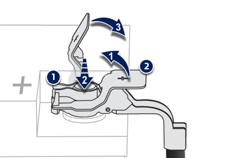 Raise the locking tab fully.
Reconnecting the cables
Position the open clip 1 of the cable on the positive terminal (+) of the battery.
Press vertically on the clip 1 to position it correctly against the battery.
Lock the clip by spreading the positioning lug and then lowering the tab 2.
Do not force the tab as locking will not be possible if the clip is not positioned correctly; start the procedure again.
See also:
Accessories
A wide range of accessories and genuine parts is available from the PEUGEOT dealer network. These accessories and parts have been tested and approved for reliability and safety. They are all ada ...
Front passenger's airbag
1. Open the glove box. 2. Insert the key. 3. Select position: "ON" (activation), with front passenger or "forwards facing" child seat, "OFF" (deactivation), with & ...
Coolant level
The coolant level should be close to the "MAX" mark but should never exceed it. When the engine is warm, the temperature of the coolant is regulated by the fan. This can operate with th ...