Access to the battery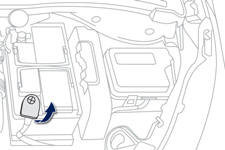 The battery is located under the bonnet. To gain access to it:
open the bonnet using the interior release lever, then the exterior safety catch,
secure the bonnet stay,
remove the plastic cover on the (+) terminal.
Disconnecting the cables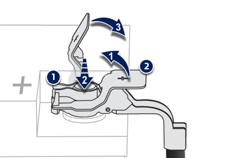 Raise the locking tab fully.
Reconnecting the cables
Position the open clip 1 of the cable on the positive terminal (+) of the battery.
Press vertically on the clip 1 to position it correctly against the battery.
Lock the clip by spreading the positioning lug and then lowering the tab 2.
Do not force the tab as locking will not be possible if the clip is not positioned correctly; start the procedure again.
See also:
Running out of fuel (diesel)
On vehicle fitted with HDi engines, the fuel system must be primed if you run out of fuel; refer to the corresponding engine compartment view. 1.6 litre HDi engine Fill the fuel tank with at lea ...
Elegant lines enhanced by advanced technology
The design of the new Peugeot 308 subtly incorporates the new stylistic codes of the Peugeot Marque. While the dimensions are unchanged, the new lines marry as closely as possible the car's mechan ...
Then one day someone has an idea.
What if, to make manoeuvring easier and increase driving sensations, the diameter of the steering wheel were reduced? And what if, to make it easier to read the information on the instrument panel ...