Access to the battery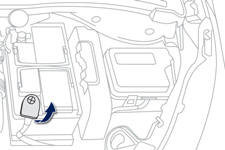 The battery is located under the bonnet. To gain access to it:
open the bonnet using the interior release lever, then the exterior safety catch,
secure the bonnet stay,
remove the plastic cover on the (+) terminal.
Disconnecting the cables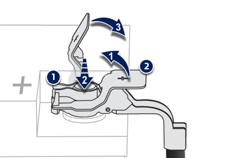 Raise the locking tab fully.
Reconnecting the cables
Position the open clip 1 of the cable on the positive terminal (+) of the battery.
Press vertically on the clip 1 to position it correctly against the battery.
Lock the clip by spreading the positioning lug and then lowering the tab 2.
Do not force the tab as locking will not be possible if the clip is not positioned correctly; start the procedure again.
See also:
Manual adjustment of halogen headlamps
To avoid causing a nuisance to other road users, the height of the halogen headlamps should be adjusted according to the load in the vehicle. 0. 1 or 2 people in the front seats. -. 3 people. ...
A pure, contemporary and refined interior ambiance
The instruments and controls, which have been re-thought structurally, have provided a previously unheard of field of expression for the stylists. The design of the dashboard blends style lines wh ...
Passenger safety
Passenger's front airbag 1. Insert the key. 2. Select the position: "OFF" (deactivation), with "rear facing" child seat, "ON" (activation), with front passenge ...