Access to the battery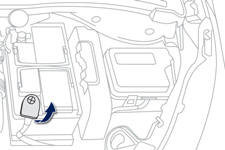 The battery is located under the bonnet. To gain access to it:
open the bonnet using the interior release lever, then the exterior safety catch,
secure the bonnet stay,
remove the plastic cover on the (+) terminal.
Disconnecting the cables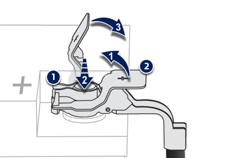 Raise the locking tab fully.
Reconnecting the cables
Position the open clip 1 of the cable on the positive terminal (+) of the battery.
Press vertically on the clip 1 to position it correctly against the battery.
Lock the clip by spreading the positioning lug and then lowering the tab 2.
Do not force the tab as locking will not be possible if the clip is not positioned correctly; start the procedure again.
See also:
The touch screen: intuitive connectivity
In keeping with its time, consistent with the new ergonomics of its instruments and controls, the Peugeot 208 will offer the majority of its customers, that is from the 2nd level of the range (i.e ...
Operating fault
In the event of a fault with the sunshine sensor, the lighting comes on, this warning lamp is displayed in the instrument panel and/or a message appears in the screen, accompanied by an audible ...
Arrange your boot
3 position adjustable boot Low position (150 kg max). To release the floor, push slightly forwards then raise. Use the stops A , placed on each side of the boot to change the height of the floo ...