Fitting roof bars
When fitting transverse roof bars, take care to position them correctly on the retaining pins located in the door apertures.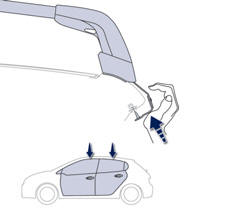 Use accessories recommended by PEUGEOT observing the manufacturer's recommendations and fitting instructions so as to avoid the risk of damaging the body (deformation, scratches, ...).
Maximum authorised weight on the roof rack, for a loading height not exceeding 40 cm (with the exception of bicycle carriers): 65 kg. If the height exceeds 40 cm, adapt the speed of the vehicle to the profile of the road to avoid damaging the roof bars and the fixings on the roof. Be sure to refer to national legislation in order to comply with the regulations for transporting objects which are longer than the vehicle.
See also:
A triumph of touchscreens
Given that we aren't always impressed by in-car touchscreens, this system is one of the best we've used. It's big for a start. Having projected it into the cabin, off the dash, it's easier to reac ...
Airbags
System designed to maximise the safety of the occupants (with the exception of the rear centre passenger) in the event of violent collisions. The airbags supplement the action of the force-limitin ...
"Porsche tiptronic system" automatic gearbox
Four or six speed automatic gearbox which offers a choice between the comfort of fully automatic operation, enhanced by sport and snow programmes, or manual gear changing. Two driving modes are p ...