Steering wheel adjustment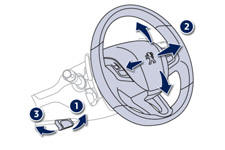 1. Release the adjustment mechanism.
2. Adjust for height and reach.
3. Lock the adjustment mechanism.
For reasons of safety, these operations must only be carried out with the vehicle stationary.
See also:
Stopping the vehicle
Before switching off the engine, you can change to position N to be in neutral. In this case, you must apply the parking brake to immobilise the vehicle. ...
Completely re-thought instruments and controls
Sometimes, things are noticed that seem intangible. A hatchback has 4 wheels, a steering wheel... and through this we read the instrument panel. The history of the motor vehicle, technical develop ...
Peugeot gets it mojo back
On the outside, we think this is a quite appealing piece of design. A kinking shape theme is evident - where the lamps push into the hood, across the top of the windscreen, in the rear lamp - and ...