Cruise control "CRUISE"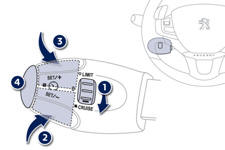 1. Selecting cruise control mode.
2. Decrease the programmed value.
3. Increase the programmed value.
4. Cruise control Off / Resume.
In order to be programmed or activated, the vehicle speed must be higher than 25 mph (40 km/h), with at least 4th gear engaged on a manual gearbox (2nd gear on an electronic or automatic gearbox).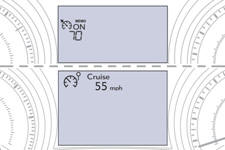 Display in the instrument panel
The cruise control or speed limiter mode appears in the instrument panel when it is selected.

Cruise control

Speed limiter
See also:
Running out of fuel (diesel)
On vehicle fitted with HDi engines, the fuel system must be primed if you run out of fuel; refer to the corresponding engine compartment view. 1.6 litre HDi engine Fill the fuel tank with at lea ...
Re-generate architecture
Peugeot's theme of "re-generate" is most apparent in the cabin, where we see a very different kind of interior design. There are three core elements. Sit in the driver's seat, and you'll ...
Electric windows
1. Left hand front electric window switch. 2. Right hand front electric window switch. 3. Right hand rear electric window switch. 4. Left hand rear electric window switch. 5. Deactivating the re ...