Cruise control "CRUISE"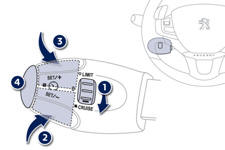 1. Selecting cruise control mode.
2. Decrease the programmed value.
3. Increase the programmed value.
4. Cruise control Off / Resume.
In order to be programmed or activated, the vehicle speed must be higher than 25 mph (40 km/h), with at least 4th gear engaged on a manual gearbox (2nd gear on an electronic or automatic gearbox).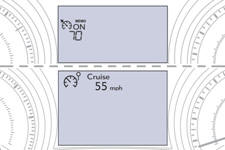 Display in the instrument panel
The cruise control or speed limiter mode appears in the instrument panel when it is selected.

Cruise control

Speed limiter
See also:
Automatic gearbox
The gearbox does not require any maintenance (no oil change). Refer to the servicing booklet for details of the level checking interval for this component. ...
Emergency braking
In the event of a failure of the main service brake or in an exceptional situation (e.g. driver taken ill, under instruction, etc) a continuous pull on the control lever A will stop the vehicle ...
Displays in the instrument panel
The programmed information is grouped together in the instrument panel screen. 5. Cruise control off/resume indication. 6. Cruise control mode selection indication. 7. Programmed speed value. 8. ...