Coolant temperature gauge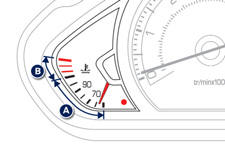 With the engine running, when the needle is:
- in zone A , the temperature is correct,
- in zone B, the temperature is too high; the maximum temperature and the central STOP warning lamps come on, accompanied by an audible signal and a warning message in the screen.
You MUST stop as soon as it is safe to do so.
Wait a few minutes before switching off the engine.
Contact a PEUGEOT dealer or a qualified workshop.
After driving for a few minutes, the temperature and pressure in the cooling system increase.
To top up the level:
wait for the engine to cool,
unscrew the cap slightly to allow the pressure to drop,
when the pressure has dropped, remove the cap,
top up the level to the "MAX" mark.
Be aware of the risk of burns when topping up the cooling system. Do not fill above the maximum level (indicated on the reservoir).
See also:
Additional adjustments
Head restraint height adjustment To raise the head restraint, pull it upwards. To remove the head restraint, press the lug A and pull the head restraint upwards. To put the head restraint back in ...
A triumph of touchscreens
Given that we aren't always impressed by in-car touchscreens, this system is one of the best we've used. It's big for a start. Having projected it into the cabin, off the dash, it's easier to reac ...
Description of the kit
A. "Sealant" or "Air" position selector. B. On "I" / off "O" switch. C. Deflation button. D. Pressure gauge (in bar or p.s.i.). E. Compartment housing: - ...