Coolant temperature gauge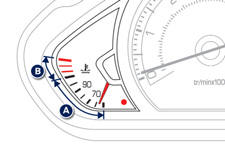 With the engine running, when the needle is:
- in zone A , the temperature is correct,
- in zone B, the temperature is too high; the maximum temperature and the central STOP warning lamps come on, accompanied by an audible signal and a warning message in the screen.
You MUST stop as soon as it is safe to do so.
Wait a few minutes before switching off the engine.
Contact a PEUGEOT dealer or a qualified workshop.
After driving for a few minutes, the temperature and pressure in the cooling system increase.
To top up the level:
wait for the engine to cool,
unscrew the cap slightly to allow the pressure to drop,
when the pressure has dropped, remove the cap,
top up the level to the "MAX" mark.
Be aware of the risk of burns when topping up the cooling system. Do not fill above the maximum level (indicated on the reservoir).
See also:
The peugeot 3008, a crossover available in a simple and clear range
According to countries, the Peugeot 3008 range will be available in four trim levels. To offer the widest possible choice, it will be available in nine body colours and, according to trim level, t ...
Torch
Portable lamp, fitted in the boot wall, which can be used to light the boot or as a torch. Operation Once engaged firmly in its location, it comes on automatically when the boot is opened and ...
Rear seats
Bench seat with fixed one-piece cushion and split backrest (left hand 2/3, right hand 1/3) which can be folded individually to adapt the load space in the boot. ...