Coolant temperature gauge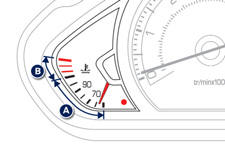 With the engine running, when the needle is:
- in zone A , the temperature is correct,
- in zone B, the temperature is too high; the maximum temperature and the central STOP warning lamps come on, accompanied by an audible signal and a warning message in the screen.
You MUST stop as soon as it is safe to do so.
Wait a few minutes before switching off the engine.
Contact a PEUGEOT dealer or a qualified workshop.
After driving for a few minutes, the temperature and pressure in the cooling system increase.
To top up the level:
wait for the engine to cool,
unscrew the cap slightly to allow the pressure to drop,
when the pressure has dropped, remove the cap,
top up the level to the "MAX" mark.
Be aware of the risk of burns when topping up the cooling system. Do not fill above the maximum level (indicated on the reservoir).
See also:
General recommendations
Observe the legislation in force in your country. Ensure that the weight of the towing vehicle is higher than that of the towed vehicle. The driver must stay at the wheel of the towed vehicle. Dri ...
Manual adjustment of halogen headlamps
To avoid causing a nuisance to other road users, the height of the halogen headlamps should be adjusted according to the load in the vehicle. 0. 1 or 2 people in the front seats. -. 3 people. ...
Child seats recommended by Peugeot
PEUGEOT offers a complete range of recommended child seats which are secured using a three point seat belt : Group 0+: from birth to 13 kg L1 "RÖMER Baby-Safe Plus" Install ...