Coolant temperature gauge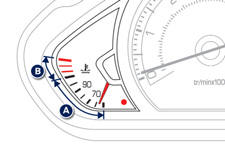 With the engine running, when the needle is:
- in zone A , the temperature is correct,
- in zone B, the temperature is too high; the maximum temperature and the central STOP warning lamps come on, accompanied by an audible signal and a warning message in the screen.
You MUST stop as soon as it is safe to do so.
Wait a few minutes before switching off the engine.
Contact a PEUGEOT dealer or a qualified workshop.
After driving for a few minutes, the temperature and pressure in the cooling system increase.
To top up the level:
wait for the engine to cool,
unscrew the cap slightly to allow the pressure to drop,
when the pressure has dropped, remove the cap,
top up the level to the "MAX" mark.
Be aware of the risk of burns when topping up the cooling system. Do not fill above the maximum level (indicated on the reservoir).
See also:
Operating fault
If a fault occurs with the system, these warning lamps come on. Contact a PEUGEOT dealer or a qualified workshop to have the system checked. ...
Anti-theft protection
Electronic engine immobiliser The key contains an electronic chip which has a special code. When the ignition is switched on, this code must be recognised in order for starting to be possible. Thi ...
Parking sensors
This system indicates the proximity of an obstacle (person, vehicle, tree, gate, etc.) which comes within the fi eld of detection of sensors located in the bumper. Certain types of obstacle (stake, ...