Engine oil level indicator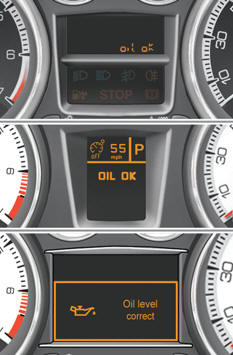 This information is displayed for a few seconds when the ignition is switched on, after the service information.

The level shown will only be correct if the vehicle is on level ground and the engine has been off for more than 30 minutes.
Oil level correct


Oil level low


This is indicated by the flashing of "OIL" , linked with the service warning lamp, accompanied by an audible signal and a message in the multifunction screen.
If the low oil level is confirmed by a check using the dipstick, the level must be topped up to prevent damage to the engine.
Oil level indicator fault

This is indicated by the flashing of "OIL--" .
Contact a PEUGEOT dealer or a qualified workshop.
Dipstick
Refer to the "Checks" section to locate the dipstick and the oil filler cap on your engine.

There are 2 marks on the dipstick:
- A = max; never exceed this level (risk of damage to the engine),
- B = min; top up the level via the oil filler cap, using the grade of oil suited to your engine.
See also:
Distance alert
Driving aid which informs the driver of the time interval (in seconds) separating them from the vehicle in front when the driving conditions are stable. It does not detect stationary vehicles and d ...
Grip control
Special patented traction control system which improves traction on snow, mud and sand. This system is combined with all-season M+S (Mud and Snow: 215/60 R16) tyres which offer an excellent compr ...
Electric windows
System intended to open or close a window manually or automatically. Fitted with a safety anti-pinch system and a system for deactivation in the event of misuse of the rear controls. 1. Driver ...