Engine oil level indicator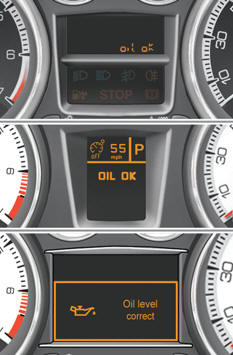 This information is displayed for a few seconds when the ignition is switched on, after the service information.

The level shown will only be correct if the vehicle is on level ground and the engine has been off for more than 30 minutes.
Oil level correct


Oil level low


This is indicated by the flashing of "OIL" , linked with the service warning lamp, accompanied by an audible signal and a message in the multifunction screen.
If the low oil level is confirmed by a check using the dipstick, the level must be topped up to prevent damage to the engine.
Oil level indicator fault

This is indicated by the flashing of "OIL--" .
Contact a PEUGEOT dealer or a qualified workshop.
Dipstick
Refer to the "Checks" section to locate the dipstick and the oil filler cap on your engine.

There are 2 marks on the dipstick:
- A = max; never exceed this level (risk of damage to the engine),
- B = min; top up the level via the oil filler cap, using the grade of oil suited to your engine.
See also:
12 V battery
Procedure for starting the engine using another battery or charging a discharged battery. The presence of this label indicates the use of a 12 V lead-acid battery with special technology and sp ...
Bonnet
Opening Open the front left door. Pull the interior bonnet release lever A , located at the bottom of the door aperture. Push the exterior safety catch B to the left and raise the bonnet. Un ...
Diesel weights and towed loads (in kg)
The GTW and towed load values indicated are valid up to a maximum altitude of 1 000 metres; the towed load mentioned must be reduced by 10 % for each additional 1 000 metres of altitude. The sp ...