Misfuel prevention (diesel)
Mechanical device which prevents filling the tank of a Diesel vehicle with petrol. It avoids the risk of engine damage that can result from filling with the wrong fuel.
Located in the filler neck, the misfuel prevention device appears when the filler cap is removed.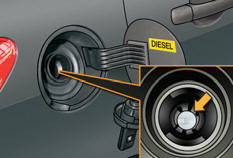 Operation
When a petrol filler nozzle is introduced into the fuel filler neck of your Diesel vehicle, it comes into contact with the flap. The system remains closed and prevents filling.
Do not persist but introduce a Diesel type filler nozzle.

It remains possible to use a fuel can to fill the tank.
In order to ensure a good flow of fuel, do not place the nozzle of the fuel can in direct contact with the flap of the misfuel prevention device and pour slowly.
Travelling abroad
As Diesel fuel pump nozzles may be different in other countries, the presence of the misfuel prevention device may make refuelling impossible.
Before travelling abroad, we recommend that you check with the PEUGEOT dealer network, whether your vehicle is suitable for the fuel pumps in the country in which you want to travel.
See also:
Exceeding the programmed speed
Intentional or unintentional exceeding of the programmed speed results in flashing of this speed in the screen. Return to the programmed speed, by means of intentional or unintentional deceleration ...
Checks
Unless otherwise indicated, check these components in accordance with the servicing booklet and according to your engine. Otherwise, have them checked by a PEUGEOT dealer or a qualified workshop. ...
A generous passenger compartment
A wheelbase identical to that of the 207, the adoption of more compact front seat backs and an overall optimisation of the design provide significantly more space in the rear for passengers (+ 5 c ...