Misfuel prevention (diesel)
Mechanical device which prevents filling the tank of a Diesel vehicle with petrol. It avoids the risk of engine damage that can result from filling with the wrong fuel.
Located in the filler neck, the misfuel prevention device appears when the filler cap is removed.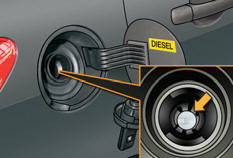 Operation
When a petrol filler nozzle is introduced into the fuel filler neck of your Diesel vehicle, it comes into contact with the flap. The system remains closed and prevents filling.
Do not persist but introduce a Diesel type filler nozzle.

It remains possible to use a fuel can to fill the tank.
In order to ensure a good flow of fuel, do not place the nozzle of the fuel can in direct contact with the flap of the misfuel prevention device and pour slowly.
Travelling abroad
As Diesel fuel pump nozzles may be different in other countries, the presence of the misfuel prevention device may make refuelling impossible.
Before travelling abroad, we recommend that you check with the PEUGEOT dealer network, whether your vehicle is suitable for the fuel pumps in the country in which you want to travel.
See also:
Airbags
System designed to maximise the safety of the occupants (with the exception of the rear centre passenger) in the event of violent collisions. It supplements the action of the force-limiting seat b ...
A pure, contemporary and refined interior ambiance
The instruments and controls, which have been re-thought structurally, have provided a previously unheard of field of expression for the stylists. The design of the dashboard blends style lines wh ...
Identification markings
Various visible markings for the identifi - cation and tracing of your vehicle. A. Vehicle identification Number (VIN) under the bonnet. This number is engraved on the bodywork near the damper suppo ...