6-Speed manual gearbox
Engaging 5 th or 6 th gear
Move the lever fully to the right to engage 5 th or 6 th gear.
Engaging reverse gear
Raise the ring under the knob and move the gear lever to the left then forwards.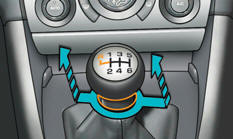 Only engage reverse gear when the vehicle is stationary with the engine at idle.

As a safety precaution and to facilitate starting of the engine:

- always select neutral,
- press the clutch pedal.
See also:
Emergency braking
In the event of a failure of the main service brake or in an exceptional situation (e.g. driver taken ill, under instruction, etc) a continuous pull on the control lever A will stop the vehicle ...
Switching on
The rear screen demisting/defrosting can only operate when the engine is running. Press this button to demist/defrost the rear screen and (depending on version) the door mirrors. The indicator lamp ...
Rear seats
Bench seat with fixed one-piece cushion and split backrest (left hand 2/3, right hand 1/3) which can be folded individually to adapt the load space in the boot. ...