6-speed electronic gear control gearbox
This 6-speed gearbox offers a choice between the comfort of fully automatic operation or the pleasure of manual gear changing.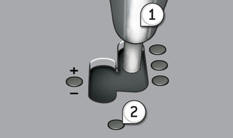 1. Gear lever.
2. Button "S" (sport) .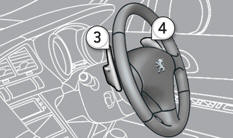 3. Steering mounted "-" paddle.
4. Steering mounted "+" paddle.
Moving off
Select position N and press the brake pedal firmly while starting the engine.
Engage first gear (position A or M ) or reverse (position R ) using the gear lever 1 .
Take your foot off the brake pedal then accelerate.
See also:
Electronic gearbox
The gearbox does not require any maintenance (no oil change). Refer to the servicing booklet for details of the checking interval for this component. ...
Parking sensors
This system indicates the proximity of an obstacle (person, vehicle, tree, gate, etc.) which comes within the fi eld of detection of sensors located in the bumper. Certain types of obstacle (stake, ...
Stopping the vehicle
Before switching off the engine, you can choose to: - move to position N to engage neutral, - leave the gear engaged; in this case, it will not be possible to move the vehicle. In both cases, you m ...