Service indicator zero reset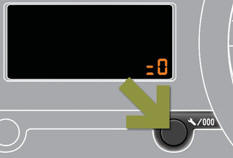 After each service, the service indicator must be reset to zero.
The procedure for resetting to zero is as follows: switch off the ignition,
press and hold the trip distance recorder zero reset button,
switch on the ignition; the distance recorder display begins a countdown,
when the display indicates "=0" , release the button; the spanner disappears.

Following this operation, if you wish to disconnect the battery, lock the vehicle and wait at least fi ve minutes for the zero reset to be taken into account.
Retrieving the service information
You can access the service information at any time.
Press the trip distance recorder zero reset button.
The service information is displayed for a few seconds, then disappears.
See also:
Electronic gearbox
The gearbox does not require any maintenance (no oil change). Refer to the servicing booklet for details of the checking interval for this component. ...
Lighting dimmer control
System for the manual adjustment of the brightness of the instrument panel and touch screen to suit the ambient light level. Two buttons With the headlamps on, press button B to increase the bri ...
The peugeot 3008, an environmentally-friendly crossover
At an early stage of the project, the search for optimal environmental efficiency was a major priority, especially as the vehicle was a crossover. Particular attention was paid to the car's aerody ...