Lower tailgate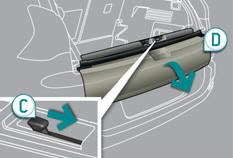 Opening
Push the handle C to the right and tilt the tailgate D gently.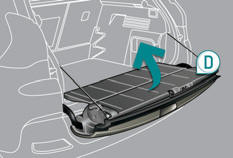 Closing
Raise the tailgate D , push it fully to close it, check that it is secured correctly.

Before opening the boot, ensure that no one is within the radius of opening.
For reasons of safety, correct operation and compliance with regulations, do not drive with the boot and the lower tailgate open.
If the battery is disconnected, the boot cannot be opened.
Do not climb onto the lower tailgate and do not subject it to heavy knocks, it may be damaged.
Always close the lower tailgate and check that it is secured correctly before closing the boot.
When closing the lower tailgate, ensure that no person or object is in the proximity of the moving parts to avoid any risk of injury or damage.

Do not open the lower tailgate when a towbar is fitted.

Maximum authorised weight on the lower tailgate when open: 200 kg .
See also:
Automatic one-touch operation
To open or close the window, press or pull the switch fully: the window opens or closes completely when the switch is released. Pressing the switch again stops the movement of the window. The ele ...
Directional lighting
When the dipped or main beam headlamps are on, this function enables the light beams to provide improved lighting of the side of the road when cornering. The use of this function, from approximatel ...
Visual and audible front and/or rear parking sensors
System consisting of four proximity sensors, installed in the front and/or rear bumper. It detects any obstacle (person, vehicle, tree, barrier...) located behind the vehicle, however, it will ...