Torch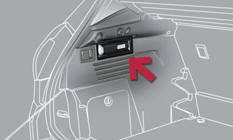 Portable lamp, fitted in the boot wall, which can be used to light the boot or as a torch.
Operation
Once engaged firmly in its location, it comes on automatically when the boot is opened and switches off automatically when the boot is closed.
It operates with NiMH type rechargeable batteries.
It has a battery life of approximately 45 minutes and recharges while you are driving.

Observe the polarities when fitting the rechargeable batteries.
Never replace the rechargeable batteries with normal single-use batteries.
See also:
Manual gear changing
This selective gear change mode enables you to overtake, for example, while still remaining in automatic mode. Operate the + or - steering mounted control paddle. The gearbox engages the gear re ...
Distance alert
Driving aid which informs the driver of the time interval (in seconds) separating them from the vehicle in front when the driving conditions are stable. It does not detect stationary vehicles and d ...
Coolant level
The coolant level should be close to the "MAX" mark but should never exceed it. When the engine is warm, the temperature of the coolant is regulated by the fan. This can operate with th ...