6-speed manual gearbox
Engaging 5 th or 6 th gear
Move the lever fully to the right to engage 5 th or 6 th gear.
Engaging reverse gear
Raise the ring under the knob and move the gear lever to the left then forwards.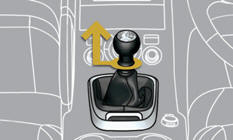 Only engage reverse gear when the vehicle is stationary with the engine at idle.

As a safety precaution and to facilitate starting of the engine:
- always select neutral,
- press the clutch pedal.
See also:
Panoramic sunroof
Component which has a tinted glass panoramic surface to increase the light and visibility in the passenger compartment. Fitted with an electric blind in several sections to improve temperature and ...
Battery
Procedure for charging your battery when it is flat or for starting the engine using another battery. The presence of this label indicates the use of a 12 V lead-acid battery with special techn ...
6-speed electronic gear control gearbox
This 6-speed gearbox offers a choice between the comfort of fully automatic operation or the pleasure of manual gear changing. 1. Gear lever. 2. Button "S" (sport) . 3. Steering mou ...