Petrol engines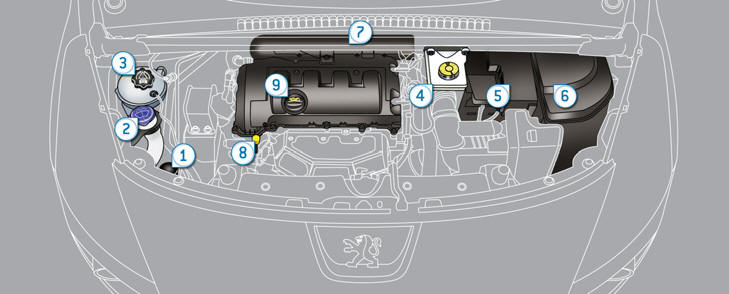 The various caps and covers allow access for checking the levels of the various fl uids and for replacing certain components.
1. Power steering reservoir.
2. Screenwash and headlamp wash reservoir.
3. Coolant reservoir.
4. Brake fl uid reservoir.
5. Battery / Fuses.
6. Fusebox.
7. Air filter.
8. Engine oil dipstick.
9. Engine oil filler cap.
See also:
Running out of fuel (diesel)
On vehicle fitted with HDi engines, the fuel system must be primed if you run out of fuel; refer to the corresponding engine compartment view. 1.6 litre HDi engine Fill the fuel tank with at lea ...
Eco-driving
Eco-driving is a range of everyday practices that allow the motorist to optimise their fuel consumption and CO2 emissions. Optimise the use of your gearbox With a manual gearbox, move off gently, ...
Service indicator
System which informs the driver when the next service is due, in accordance with the manufacturer's servicing schedule. The point at which the service is due is calculated from the last indicat ...