Fitting roof bars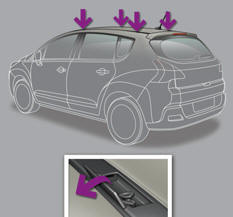 When fitting transverse roof bars, use the four quick-fi t fixings provided for this purpose:
lift the concealing flaps, open the fixing covers on each bar using the key,
put each fixing in place and lock them on the roof one by one,
ensure that roof bars are correctly fitted (by shaking them),
close the fixing covers on each bar using the key.

Maximum authorised weight on the roof rack, for a loading height not exceeding 40 cm (with the exception of bicycle carriers): 65 kg.
If the height exceeds 40 cm, adapt the speed of the vehicle to the profi le of the road to avoid damaging the roof bars and the fixings on the roof.
Be sure to refer to national legislation in order to comply with the regulations for transporting objects that are longer than the vehicle.
See also:
Rear seats (308 saloon, 308 SW with bench rear seat)
Bench seat, the left-hand (2/3) or right-hand (1/3) section of which can be folded to adapt the boot load space. Rear head restraints These have a high position (comfort and safety) and ...
Stylistic re-generation
"Agile, sensuous, athletic, intuitive, concentrated energy, generation jump"... these words were included in the specification of the A9 project and the stylists have succeeded in giving ...
Locating your vehicle
Press the closed padlock to locate your locked vehicle in a car park. This is indicated by lighting of the courtesy lamps and flashing of the direction indicators for a few seconds. ...