Fitting roof bars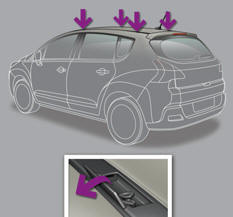 When fitting transverse roof bars, use the four quick-fi t fixings provided for this purpose:
lift the concealing flaps, open the fixing covers on each bar using the key,
put each fixing in place and lock them on the roof one by one,
ensure that roof bars are correctly fitted (by shaking them),
close the fixing covers on each bar using the key.

Maximum authorised weight on the roof rack, for a loading height not exceeding 40 cm (with the exception of bicycle carriers): 65 kg.
If the height exceeds 40 cm, adapt the speed of the vehicle to the profi le of the road to avoid damaging the roof bars and the fixings on the roof.
Be sure to refer to national legislation in order to comply with the regulations for transporting objects that are longer than the vehicle.
See also:
Bonnet
Opening Open the front left door. Pull the interior bonnet release lever A , located at the bottom of the door aperture. Push the exterior safety catch B to the left and raise the bonnet. Un ...
Weights and towed loads (in kg) (2)
* The weight of the braked trailer can be increased, within the GTW limit, if the GVW of the towing vehicle is reduced by an equal amount; warning, towing using a lightly loaded towing vehicle m ...
Stopping the vehicle
Before switching off the engine, you can change to position N to be in neutral. In this case, you must apply the parking brake to immobilise the vehicle. ...