Diesel weights and towed loads (in kg)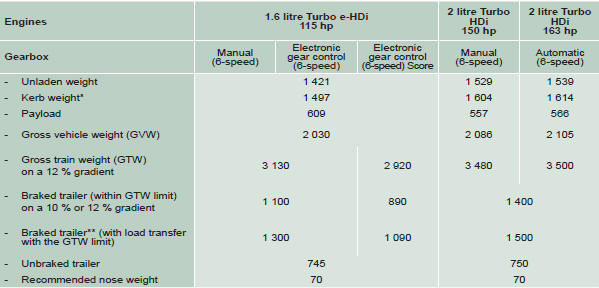 The GTW and towed load values indicated are valid up to a maximum altitude of 1 000 metres; the towed load mentioned must be reduced by 10 % for each additional 1 000 metres of altitude.
The speed of a towing vehicle must not exceed 60 mph (100 km/h) (comply with the legislation in force in your country).
High ambient temperatures may result in a reduction in the performance of the vehicle to protect the engine; if the ambient temperature is above 37 °C, limit the towed load.
* The kerb weight is equal to the unladen weight + driver (75 kg).
** The weight of the braked trailer can be increased, within the GTW limit, if the GVW of the towing vehicle is reduced by an equal amount; warning, towing using a lightly loaded towing vehicle may have an adverse effect on its road holding.
See also:
Quality of the fuel used for Diesel engines
The Diesel engines are perfectly compatible with biofuels which conform to current and future European standards (Diesel fuel which complies with standard EN 590 mixed with a biofuel which complie ...
Mats
Removable carpet protection. Fitting When fitting the mat for the first time, on the driver's side use only the fixings provided in the wallet attached. The other mats are simply placed on th ...
Boot fittings
1. Rear parcel shelf (see following page for details) 2. Hooks (see following page for details) 3. Boot lamp 4. Retaining strap 5. Stowing rings (depending on version) Rear parcel shelf To r ...