Rear view mirror
Adjustable mirror providing a central rearward view.
Equipped with an anti-dazzle system, which darkens the mirror glass: this reduces the nuisance to the driver caused by the headlamps from following vehicles, low sun...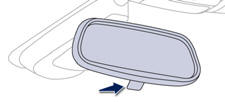 Manual day/night model
Adjustment
Adjust the mirror so that the glass is directed correctly in the "day" position.
Day / night position
Pull the lever to change to the "night" antidazzle position.
Push the lever to change to the normal "day" position.
As a safety measure, the mirrors should be adjusted to reduce the "blind spot".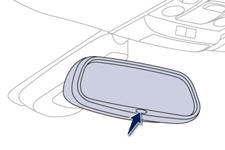 Automatic day/night model
By means of a sensor, which measures the light from the rear of the vehicle, this system automatically and progressively changes between the day and night uses.
In order to ensure optimum visibility during your manoeuvres, the mirror lightens automatically when reverse gear is engaged.
See also:
Manual gearbox
The gearbox does not require any maintenance (no oil change). Refer to the servicing booklet for the details of the level checking interval for this component. ...
Changing a bulb
The headlamps are fitted with poly- headlamps carbonate glass with a protective coating: do not clean them using a dry or abrasive cloth, nor with a detergent or solvent product, use a sponge and ...
Repositioning the seat backrest
Straighten the seat backrest 2 and secure it. Check that the red indicator, located next to the control 1, is no longer visible. Unbuckle and reposition the seat belt on the side of the ba ...