Towing your vehicle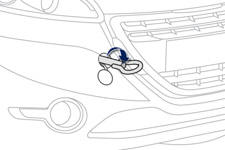 On the front bumper, unclip the cover by pressing at the bottom.
Screw the towing eye in fully.
Install the towing bar.
Place the gear lever in neutral (position N on an electronic gearbox or automatic gearbox). Failure to observe this instruction could result in damage to certain components (braking, transmission...) and the absence of braking assistance the next time the engine is started.
Unlock the steering by turning the key in the ignition one notch and release the parking brake.
Switch on the hazard warning lamps on both vehicles.
Move off gently, drive slowly and for a short distance.
See also:
Exceeding the programmed speed
Pressing the accelerator pedal to exceed the programmed speed will not have any effect unless you press the pedal firmly past the point of resistance. The speed limiter is deactivated temporarily a ...
Manual child lock
Mechanical system to prevent opening of the rear door using its interior control. The control is located on the edge of each rear door. Locking Using the ignition key, turn the red control as far ...
Active matrix instrument panel
Dials and screens 1. Engine coolant temperature gauge. 2. Rev counter (x 1 000 rpm or tr/min), graduation according to engine (petrol or Diesel). 3. Cruise control or speed limiter settings. 4 ...