Filling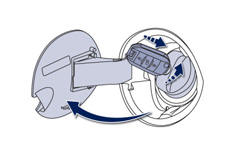 A self-adhesive label on the inner face of the filler flap reminds you of the type of fuel to use depending on your engine.
Additions of fuel must be of at least 5 litres to be registered by the fuel gauge.
The key cannot be removed from the lock until the cap is refitted.
Removing the filler cap may cause an inrush of air. This vacuum is perfectly normal and results from the sealing of the system.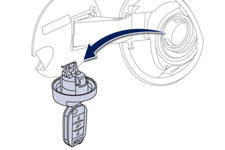 To fill the tank safely:
the engine must be switched off,
open the fuel filler flap,
insert the key in the cap, then turn it to the left,
remove the cap and hook it onto the clip located on the inside of the flap,
fill the tank, but do not continue after the 3rd cut-off of the pump ; this could cause malfunctions.
When you have filled the tank:
put the cap back in place,
turn the key to the right, then remove it from the cap,
close the flap.
If you have put in the wrong fuel for the engine of your vehicle, you must have the fuel tank drained and filled with the correct fuel before starting the engine.
See also:
Maintenance
Before doing anything under the bonnet, deactivate the Stop & Start system to avoid any risk of injury resulting from automatic operation of START mode. This system requires a battery with a sp ...
Petrol engines and gearboxes
* The maximum power corresponds to the type approved value on a test bed, under the conditions defined in European legislation (directive 1999/99/CE). ** Overseas export. ...
General recommendations
Observe the legislation in force in your country. Ensure that the weight of the towing vehicle is higher than that of the towed vehicle. The driver must stay at the wheel of the towed vehicle. Dri ...