Filling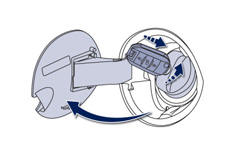 A self-adhesive label on the inner face of the filler flap reminds you of the type of fuel to use depending on your engine.
Additions of fuel must be of at least 5 litres to be registered by the fuel gauge.
The key cannot be removed from the lock until the cap is refitted.
Removing the filler cap may cause an inrush of air. This vacuum is perfectly normal and results from the sealing of the system.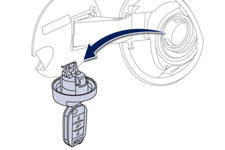 To fill the tank safely:
the engine must be switched off,
open the fuel filler flap,
insert the key in the cap, then turn it to the left,
remove the cap and hook it onto the clip located on the inside of the flap,
fill the tank, but do not continue after the 3rd cut-off of the pump ; this could cause malfunctions.
When you have filled the tank:
put the cap back in place,
turn the key to the right, then remove it from the cap,
close the flap.
If you have put in the wrong fuel for the engine of your vehicle, you must have the fuel tank drained and filled with the correct fuel before starting the engine.
See also:
12 V battery
Procedure for starting the engine using another battery or charging a discharged battery. The presence of this label, in particular with the Stop & Start system, indicates the use of a 12 V ...
Remote control problem
Following disconnection of the vehicle battery, replacement of the remote control battery or in the event of a remote control malfunction, you can no longer unlock, lock or locate your vehicle. F ...
Coolant temperature indicator
With the engine running, when the needle is: - in zone A , the temperature is correct, - in zone B , the temperature is too high; the max temperature warning lamp 1 and the central STOP warnin ...