Identifi cation markings
Various visible markings for the identification of your vehicle.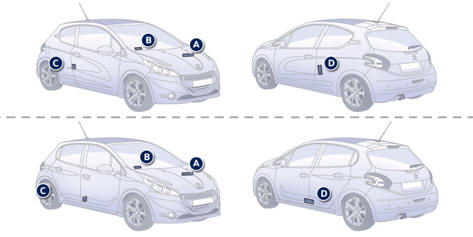 A. Vehicle Identification Number (VIN) under the bonnet. This number is engraved on the bodywork near the damper support.
B. Vehicle identification Number (VIN) on the windscreen lower crossmember. This number is indicated on a self-adhesive label which is visible through the windscreen.
C. Manufacturer's label. The VIN is indicated on a self-destroying label affixed to the middle pillar, on the passenger's side.
D. Tyre/paint label. This label is fitted to the middle pillar, on the driver's side.
It bears the following information:
- the tyre inflation pressures with and without load,
- the wheel rim and tyre sizes,
- the brands of tyre recommended by the manufacturer,
- the inflation pressure of the spare wheel,
- the paint colour code.
The tyre pressures must be checked when the tyres are cold, at least once a month.
Low tyre pressures increase fuel consumption.
See also:
Bonnet
Opening Open the front left door. Pull the interior bonnet release lever A , located at the bottom of the door aperture. Push the exterior safety catch B to the left and raise the bonnet. Un ...
"Aircraft" type tables
Installed on the back of each front seat, these allow you to set down objects and each is equipped with a cup holder. To use the table, raise it fully until it locks in the high position. To s ...
Distance alert
1. Distance alert on /off. 2. Alert value increase / decrease. The adjustments must be made with the engine running and the vehicle stationary. ...