Identifi cation markings
Various visible markings for the identification of your vehicle.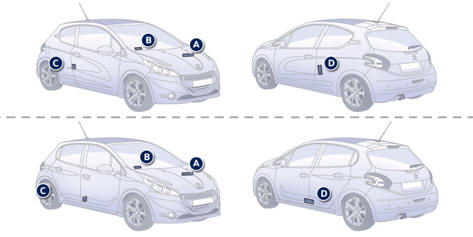 A. Vehicle Identification Number (VIN) under the bonnet. This number is engraved on the bodywork near the damper support.
B. Vehicle identification Number (VIN) on the windscreen lower crossmember. This number is indicated on a self-adhesive label which is visible through the windscreen.
C. Manufacturer's label. The VIN is indicated on a self-destroying label affixed to the middle pillar, on the passenger's side.
D. Tyre/paint label. This label is fitted to the middle pillar, on the driver's side.
It bears the following information:
- the tyre inflation pressures with and without load,
- the wheel rim and tyre sizes,
- the brands of tyre recommended by the manufacturer,
- the inflation pressure of the spare wheel,
- the paint colour code.
The tyre pressures must be checked when the tyres are cold, at least once a month.
Low tyre pressures increase fuel consumption.
See also:
Brake pads
Brake wear depends on the style of driving, particularly in the case of vehicles used in town, over short distances. It may be necessary to have the condition of the brakes checked, even between ...
Exceeding the programmed speed
Intentional or unintentional exceeding of the programmed speed results in flashing of this speed in the screen. Return to the programmed speed, by means of intentional or unintentional deceleration ...
Remote control problem
Following disconnection of the vehicle battery, replacement of the remote control battery or in the event of a remote control malfunction, you can no longer unlock, lock or locate your vehicle. F ...