Identifi cation markings
Various visible markings for the identification of your vehicle.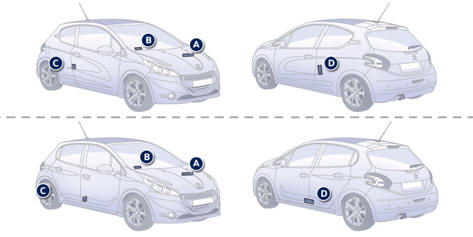 A. Vehicle Identification Number (VIN) under the bonnet. This number is engraved on the bodywork near the damper support.
B. Vehicle identification Number (VIN) on the windscreen lower crossmember. This number is indicated on a self-adhesive label which is visible through the windscreen.
C. Manufacturer's label. The VIN is indicated on a self-destroying label affixed to the middle pillar, on the passenger's side.
D. Tyre/paint label. This label is fitted to the middle pillar, on the driver's side.
It bears the following information:
- the tyre inflation pressures with and without load,
- the wheel rim and tyre sizes,
- the brands of tyre recommended by the manufacturer,
- the inflation pressure of the spare wheel,
- the paint colour code.
The tyre pressures must be checked when the tyres are cold, at least once a month.
Low tyre pressures increase fuel consumption.
See also:
Airbags
System designed to maximise the safety of the occupants (with the exception of the rear centre passenger) in the event of violent collisions. It supplements the action of the force-limiting seat b ...
Peugeot gets it mojo back
On the outside, we think this is a quite appealing piece of design. A kinking shape theme is evident - where the lamps push into the hood, across the top of the windscreen, in the rear lamp - and ...
Head-up display
System which projects various information onto a transparent strip in the fi eld of vision of the driver so that they do not have to take their eyes off the road. This system operates when the ...