Coolant temperature gauge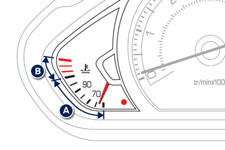 With the engine running, when the needle is:
- in zone A , the temperature is correct,
- in zone B, the temperature is too high; the maximum temperature and the central STOP warning lamps come on, accompanied by an audible signal and a warning message in the screen.
You MUST stop as soon as it is safe to do so.
Wait a few minutes before switching off the engine.
Contact a PEUGEOT dealer or a qualified workshop.
After driving for a few minutes, the temperature and pressure in the cooling system increase.
To top up the level:
wait for the engine to cool,
unscrew the cap slightly to allow the pressure to drop,
when the pressure has dropped, remove the cap,
top up the level to the "MAX" mark.
Be aware of the risk of burns when topping up the cooling system. Do not fill above the maximum level (indicated on the reservoir).
See also:
12 V accessory sockets
To connect a 12 V accessory (max power: 120 Watts), remove the cover and connect a suitable adaptor. Exceeding the maximum power could result in damage to your accessory. ...
Filling
A self-adhesive label on the inner face of the filler flap reminds you of the type of fuel to use depending on your engine. Additions of fuel must be of at least 5 litres to be registered by the ...
Interior
Audio and communication systems This equipment benefits from the latest technology: MP3 compatible Peugeot Connect Sound (RD5), Bluetooth, Peugeot Connect Navigation (RT6) or Peugeot Connect Medi ...